BOCUSE D' OR HISTORY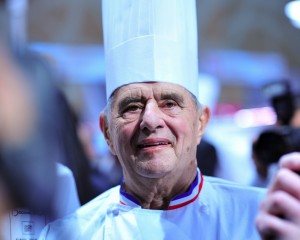 Chef Paul Bocuse created the Bocuse d'Or International Culinary Competition in 1987 in order to broaden the public's understanding of the extraordinary dedication, hard work, practice and precision required to execute the very finest cuisine. The Bocuse d'Or competition is the most rigorous culinary competition in the world, held every two years in Lyon, France. Twenty-four countries are selected to compete and each country's team is comprised of one chef and one commis assistant.
Each team is provided five and a half hours to create two elaborate platter presentations, one centered around seafood and one on meat, each accompanied by three original garnishes. The platters are presented before twenty four judges, each of whom is among the most esteemed chefs in his/her own country. The judges evaluate the overall harmony of flavors in the dish, the presentation of the platter, the techniques employed and the efficiency in which the teams work.
The intensity of the spectator's enthusiasm is unique. Thousands of fans attend the event and are seated in sections in front of their competitors' booth, waving flags, singing national chants, and providing general encouragement. The noise level of the arena elevates as the candidates race to complete their presentations to the judges. Hundreds of international photo and film journalists canvas the location, broadcasting the competition live around the world.
The day following the competition, Chef Bocuse hosts a breakfast at his Michelin 3-star restaurant in Collonges which includes a ceremony to honor the top three teams by installing a plaque engraved with their names and countries on the front walkway into the restaurant.
In 2015, the US Team received the d'Or Argent (silver statute) at the competition. This was the first time the United States placed at the competition, and previously the country's highest ranking had been 6th place.