WINNERS OF THE 2016 YOUNG CHEF & COMMIS COMPETITIONS
Institute of Culinary Education, New York

Congratulations to all of our Young Chef teams and Commis!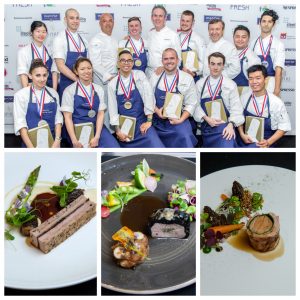 Young Chef Winners:
Vincenzo Loseto and Daniel Garcia (1st place)- Veal Pavé with Black Truffle, Sweetbread Stuffed Morels, Asparagus, and Snap Peas (Left)
Cesar Gutierrez and Esther Ha (2nd place)- Veal en Crepinette (Middle)
Sam Daigle and Tyler Prieve (3rd place)- Veal with Sweetbread Boudin Blanc, Morel Mushrooms, Wild Rice, and Carrots (Right)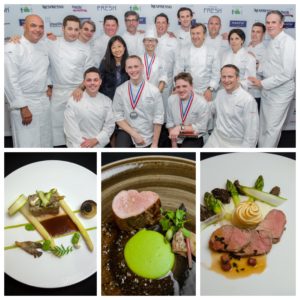 Commis Winners:
Mimi Chen (1st place)- Veal Tenderloin with Oyster Mushroom and Herb Mousseline (Left)
Brendan Scott (2nd place)- Veal Tenderloin with Morel Mushrooms, Chard, Ramp, Asparagus, and a Pea Purée (Middle)
Christopher Andre de la Porte (3rd place)- Veal Orloff (Right)
Thank you to our Chef judges James Briscione (ICE), Chris Hastings (Hot & Hot Fish Club), Shaun Hergatt (Juni), Gavin Kaysen (Spoon & Stable), James Kent (The NoMad), Gabriel Kreuther (Gabriel Kreuther), Barbara Lynch (Menton), Mathew Peters (Bocuse d'Or Team USA 2017), Richard Rosendale (Rosendale Collective), Bryce Shuman (Betony), Robert Sulatycky (iQKitchen), and Philip Tessier (Team USA 2015 Silver Winner & Team USA 2017 Head Coach).
We would also like to thank our sponsors All-Clad, Bragard, Marcho Farms, Nespresso, Nordaq FRESH, Paris Gourmet, Spire Collection, Steelite, Sterling Caviar, The Chef's Garden, and Urbani Truffles for supporting our competitions this year.