Stage Story: Alex Enright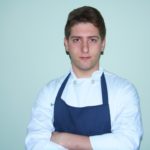 While at Noma, Alex Enright sorted dead ants, learned about fermentation and gained a new perspective on food.
What types of tasks were you assigned during your stage at Noma?
Some of my responsibilities included sorting dead ants from dirt, plucking feathers off of freshly killed ducks, peeling walnuts, cleaning 30-year-old reindeer moss, sweeping the floor, taking out the trash and washing dishes. After the first two weeks, I was put on the section in the service kitchen where all the food was plated and finished before it hit the table. After a month, I was selected to make the family meal. Two new interns are tasked with preparing the family meal at Noma each week, which means making both lunch and dinner for around 120 employees. The interns must create a menu, order the ingredients and fight for ovens. It was a tough but fulfilling week. After that, I spent the rest of my internship back in service, where I got to spend all of my time with the chefs, which was fantastic. Some of the responsibilities I had during that time included gathering all the plates for service, station setup, and plating. I also helped out at other stations as needed.
How was working at Noma different from your experiences?
The kitchen culture at Noma is very different from the kitchen culture at The NoMad and Eleven Madison Park. Everyone has fun and is in a good mood while they are in the kitchen at Noma. Music is constantly playing, you do not have to shave and running in the kitchen and talking are both encouraged. No one's head is down. Chef Rene likes to have a lively kitchen.
Another differentiator is that fermentation is an important part of Noma's food. They make their own vinegars, pickles, kojis and peaso, and they ferment apples, ducks, beef and asparagus. It was incredible to learn the science behind this forgotten technique. Fermentation changes the texture, flavor, smell and molecular structure of the product.
Did you accomplish what you wanted to during your stage?
Yes - I definitely accomplished what I had hoped to accomplish. Because of my experience at Noma, I have grown as a chef and as an individual, and I have become more humble. I also had the opportunity to network and connect with wonderful people. I still keep in touch with the other interns, and I hope to maintain long-lasting relationships with them. I learned different ways of making brines, ferments and oils. I have a new perspective on food, and I feel more creative. My experience at Noma opened up my eyes to a whole new realm of flavors and recipe possibilities. I will utilize everything I learned during my stage at Noma throughout the rest of my culinary journey.
Photos from Alex's stage: