Stage Story: Alex Yoon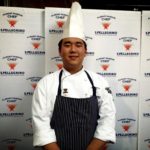 Alex Yoon participated in the 2015 Young Chef Competition in NYC and was awarded a two-month stage for his 2nd place win. He chose to work in France, at Restaurant Mirazur in Menton.
I wanted to work at Mirazur for a variety of reasons: it is in an exotic location with beautiful weather, there is a garden up the street where cooks would pick out the produce needed for that day, and to work at a restaurant where they operate as farm-to-table is truly amazing to see. In addition, to experience a restaurant in France was an opportunity that was too great to pass up (not to mention that it was #11 on the World's 50 Best!). It took about a year of going back and forth with paperwork and emails to finally confirm a stage date, and I learned a lot from that process alone.
When I first arrived to the restaurant it was a Sunday morning during a torrential downpour. I didn't know exactly where to go as the phone lines were not working at the time, but I waited outside until I saw a cook coming towards the door. I introduced myself to let him know that I was there for a stage, and he looked a bit confused as he did not understand English well. I later found out that this cook was to be my sous chef. I received a tour of the kitchen, met the other cooks, and eventually got to meet Chef Mauro. When Mauro welcomed me, the first thing he asked was, "how is your French?", and I replied, "not very well". He then he asked me about my Spanish, my answer didn't change, then he smirked followed by "now you're in trouble, huh". My first day at Mirazur was the following Tuesday. I arrived at work by 8:45am and started prepping the canapé/garde manger station. On the canapé station, I was responsible for prepping all of the mise en place for every service. There are three main canapés but we always had to have three extras in case of restrictions. The first canapé was a sardine bone filleted and deep fried. The sardine bone would be covered in three drops of sardine puree made with the filets, preserved Menton lemons, capers, Italian olives and sea beans. The second canapé was a beet puree gelee with whipped Chevre cheese and a thin carpaccio of candy cane beets. The last canapé was a dashi meringue "macaroon" with a boudin noir puree and a carpaccio of green apple.
The process of finding a restaurant in Europe that would let me stage with my still limited background and resume was extremely difficult - it did not happen overnight, but it forced me to be persistent in finding exactly what I wanted. I learned how to work in an uncomfortable environment and make the best of it. The language barrier was very difficult at times but it all worked out, I was able to learn more French than I would have ever learned trying to study it in a classroom. But I thought it was more important that I had an opportunity to understand the culture and the people of France. It was an eye opening experience to see what they considered the finer things in life and, most of the time, it was as simple as a glass of wine with a slice of pizza or some amazing cheeses. I learned that working with a garden is a very difficult and labor-intensive job; one day of great weather can yield great produce and then in the next couple of hours intense rain could destroy some of the produce that you were intending to pick for service. This experience inspired me to become more relaxed and I can now see things from a different perspective. It is difficult for me to describe in words what I have learned from my stage, but most of my time there left me feeling as though this experience completely changed my life forever. I feel a bit sad because I know I will not be able to go through this again for a while, but it has been nice to have this time to reflect on my experience and really think about the impact this has had on me.
This internship stripped me out of my comfort zone and allowed me to be vulnerable enough to soak up everything this experience had to offer. I came to France with some expectations as far as the standards that would be held in the restaurant, but every day was a new day and I got to see so much it was over whelming at times. This internship has made me stronger as a person and as a cook. The opportunity to cook in France has done so much for me. It has opened my eyes to new techniques, as well as old ones that I would never be able to see unless I was in France. The repetition of a day's work kept me honing my craft. When I started at Mirazur, I never really filleted sardines, but by the end of the season I had filleted close to 65 kilograms. This opportunity also allowed me to advance my skills, ones that I would never came across unless I had worked in France, such as speaking in different languages, working with a garden, being able to produce your own ingredients that are picked fresh every service, and how the kitchen hierarchy really works. The French kitchen hierarchy never translated to me while I worked in the US, but when I was at Mirazur I got to see the system working well and it was an amazing thing to see.
Photos from Alex's stage:
| | |
| --- | --- |
| | |
| | |