Stage Story: Angela Chung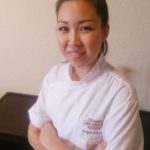 Angela chose to stage in Lyon, France for two months, training at Restaurant Marguerite, Paul Bocuse's l'Auberge du Pont de Collognes, and the Bernachon Boutique.
I wanted to use this opportunity to continue my professional education by experiencing the true meaning of seasonality, hone my French technical (and language) skills in patisserie, further develop my palate by tasting the rare ingredients available in France, discover new trends of patisseries in France and extend my study in the classical French patisseries. The best place to accomplish this was in Lyon, the food capital of the world. Lyon has the most Michelin star restaurants, along with top quality boulangeries, patisseries, and chocolatiers.
Restaurant Marguerite is located in the middle of the Lumiere district. It is a very beautiful three-story home with several rooms so that guests can have a private dining experience. I was able to help come up with the dessert de jour, the group (banquets) desserts, and the Lumiere (Sunday) desserts, using only the fruits of the season. Some examples of the dessert de jour included tarte framboise pistache, tarte café tonka lait au chocolat, tarte fruit de passion mangue vanilla cheesecake, and crumble aux Pomme framboises et vanilla glace.
After completing one month at restaurant Marguerite, I moved to l'Aiberge du Pont du Collognes, where Paul Bocuse has maintained his 3 Michelin stars for 50 years - the restaurant to have the longest period of consecutive years. This experience was one of my most memorable. It was a great honor to meet Monsieur Paul each morning at 10am. Even at 90 years old, he came to the kitchen every day to greet his staff, and on Sundays he had lunch with his managers and/ or guests.
It was interesting to see the strong hierarchy in the kitchen and the importance of appearance. One morning, I did not have a chance to iron my chef whites and when I got to the kitchen the chef gave me another jacket to use because Monsieur Paul would not allow it. On another occasion, I had a bit of hair coming out of my hat and the chef said I had to tuck it in or he will cut it off!
I completed my third mentorship at Bernachon boutique, located in the luxurious 6th arrondissement. Bernachon combines chocolaterie, patisserie and confiserie into one boutique, and a restaurant/ tea room next door. Bernachon selects the best ingredients and finest crops of cocoa beans from around the world. Like coffee, there are many different kinds of beans, each with a different taste depending on where they are grown. Chocolate is like wine; the beans have their own terroir, and from bean to box, everything is hand-made. It was incredible to see their traditional and classic ways of chocolate production.
Working and living in France was an amazing experience. Despite the language barrier, everyone was very welcoming and we were able to communicate through our kitchen experience.
I would like to thank the Foundation for awarding me a grant to take advantage of this once-in-a-lifetime mentorship opportunity, and to JBI for allowing me to leave work for two months to have this remarkable experience.
Photos from Angela's stage: