Stage Story: Caitlin Head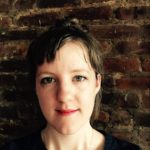 Caitlin traveled to Spain to do a stage at Asador Extebarri, a small restaurant in the Basque region, and returned to the United States with a new set of goals for her future.
Why did you select Asador Extebarri for your stage?
I was attracted to the simplicity of the food. It is so austere that it almost seems more Japanese than Spanish. Every dish served there has a touch of fire in it, ranging from the lightly smoked goats' milk that is used for the butter service to the charred slab of steak that people come from all over the world to try. I also liked the fact that the restaurant has only ever had one chef, Victor Arguinzoniz. I was not interested in going to a restaurant where the chef was just the face of the establishment, rather than an actual presence there.
What work did you do during your time at Asador Extebarri?
When I first started working there, the staff was just returning from a month-long vacation and the restaurant was completely empty in terms of ingredients. I jumped right in and helped gather produce from a farm next door to the chef's house. I also worked with the staff to process the raw ingredients, which meant doing tasks such as peeling vegetables, cleaning anchovies and making sure that the walk-in was organized. Once things were back up and running, I assisted in preparing just about all of the dishes on Extebarri's tasting menu, which was usually around 15 courses.
How was your stage experience different from your other work experiences?
The pace was significantly less intense than the pace in New York, and the hours were shorter and started earlier. I was home before the sun had set, which felt like an incredible gift to me. The kitchen was serious but calm, and when Chef Victor was displeased about something, his anger did not have a target. The staff often told me not to rush and to take my time. I had time to think, reflect and read. I read more in two months than I probably had in the previous two years.
How will your stage impact your career in the future?
The extra time I had to relax and reflect during my stage allowed me to think more deeply about the industry than I had before. I thought about the fact that many people will never be able to afford to eat at a fine dining restaurant, and about how fantastic it would be if fine dining could be made more accessible. Perhaps the staff could be made up of people considered "unhireable" (people without high school diplomas, for instance), and the restaurant could train them and provide them with the tools to build a lifelong career. I love cooking and working in restaurants, but I am having a hard time squaring that love and all the hard work that goes into it with the bigger picture of what's happening in the world. My time at Asador Extebarri made me realize that I need to find a way to create a new type of non-profit restaurant. I plan to leverage the skills and palate I have developed while working in restaurants during the past six years. I would not want people to only come to the restaurant because they support the cause. I want to have a place where the food is so good that you do not have to sell people on the non-profit idea. I want to use local organic ingredients, sustainable seafood and meat and seasonal menus. I want the workers to receive a living wage, to have health care and vacation. I want the restaurant to be a place where the community can gather for events. It will be an insane amount of work. I will fail sometimes, but I will (hopefully) have successes as well. I want to do this in Florida, where I am from. I realize that it is a big, crazy idea, but I also believe that it just might work.
Do you feel that your stage was a success?
Yes. I feel so lucky to have had this opportunity, and I have been encouraging my fellow cooks to apply for this grant because it really did change my life and my goals. 
Photos from Caitlin's stage: