Stage Story: Daniel Moccia-Field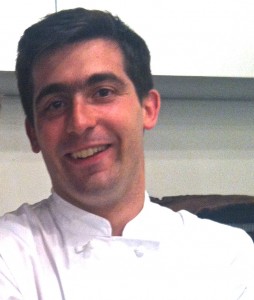 Daniel Moccia-Field decided to spend his stage at two restaurants in San Francisco: Bar Tartine and Manresa. With his unique stage, he was able to compare and contrast the restaurants' kitchen atmospheres and relationships to their cuisine.
How did you decide to stage at both restaurants?
When I first proposed this project to the Ment'or BKB Foundation, my goal was to spend two months at Saison in San Francisco. I was attracted to that restaurant's creative vegetable-focused cuisine, its careful balance of rustic and refined, and its deep connection to regional food networks. But when I learned Saison only accepts stagiers for a minimum of six months, I began looking for other restaurants in the area with the same values regarding product and cuisine. Ultimately I decided to split my time between Bar Tartine and Manresa, and to let my experience be a study in contrasts. In two months my goal was to know the cuisine of these two restaurants intimately. I wanted to know how they operate, and what their relationship is to the food system of California's Bay Area, the birthplace of the American farm to table movement.
What were your jobs in the kitchens?
Bar Tartine was short-handed when I arrived, having just lost a sous chef to firefighting school. I volunteered for whatever was needed, from prep work on up to managerial roles. I rotated through the line, cooking both on the garde manger and grill station, even occasionally expediting service. The rest of my time was spent in the production kitchen, tending to the dozens and dozens of drying, curing, fermenting, and preserving projects.
Manresa was in many respects a much more traditional internship. The kitchen is surgically clean and the staff zen-like in their calm, focused sense of urgency. The hierarchy is well-established, and there is plenty of work for a commis in a cuisine that values freshness above all. So I shucked mountains of favas and peas, peeled asparagus, washed and picked herbs, and assembled kits for service. I spent many hours at the vacuum sealer, bagging and labeling products for deep storage. I weighed out ingredients for the pastry chef, and picked braise for the saucier. I received deliveries, washed dishes, polished copper pots, swept and mopped the floor. In my last two weeks, I helped pull hot plates at the pass, and learned the plating of two courses. Twice I cooked staff meal for the whole restaurant, one time Lebanese chicken with olive salad and the other time shepherd's pie.
What did you learn?
Beyond the many skills and techniques that I learned, most of what I observed on this trip concerned management, organization, and communication. Both kitchens displayed extremely high levels of social intelligence, from the way the staff was treated by the management, to how cooks interacted with each other during and after service. Not coincidentally, both kitchens were run by women - Cortney Burns at Bar Tartine, and Jessica Largey at Manresa - and both kitchens had something closer to gender parity than I'm used to in New York. As a result, I watched closely to see how information was passed on and feedback loops were maintained, and how staff and resources were organized efficiently in the service of the chef's vision.
Overall, how did your experiences at two different restaurants affect you?
First off, from a professional standpoint this experience was hugely validating. My skills and attitude were praised by chefs, and I received standing job offers from both restaurants. The work of cooking is very subjective, and in the crush of daily details it can be hard to measure growth. So I'm grateful for the chance to step away from the grind and see myself and my place in my profession in a different light. A huge part of growing from a cook to a chef, or from a worker to a manager, is having confidence in your own ability. Immediately after returning I was promoted to a junior chef position at Betony, and I felt ready for that challenge in large part because of this trip.
Manresa is the most serene, monastic kitchen experience I've ever had, while Bar Tartine tends more towards raw, cowboy-style services. But I was moved by each institution's commitment its values: producing top quality food while maintaining a respectful workplace and responsible environmental stewardship. Both restaurants are deeply rooted in the experience of California cuisine. They buy from people they know in the regions around them, and draw inspiration from the cultural fusion unique to the Bay area. Both restaurants were affected by the ongoing drought in California – during my time a law was passed prohibiting restaurants from serving water unless specifically requested by a guest.
And most importantly, both restaurants are the result of many people giving the better part of their time, love, and energy to a very personal endeavor. Each is a major figure in American restaurant landscape, yet they're propped up by such fallible human energy. The prospect of running a successful kitchen with as much love and creative energy as either of these two scares me – and yet it's never felt more compelling.
Photos from Daniel's stage: