Stage Story: Elaine Smyth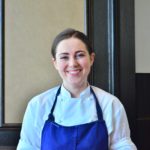 Already part of Thomas Keller's pastry team at Per Se in New York, Elaine Smyth chose to do her stage at one of his other famous restaurants, The French Laundry in Yountville. While there, she learned about working in a garden, what it takes to transform raw beans into chocolate and why simplicity is sometimes the best way to allow fresh produce to shine.
What attracted you to doing a stage at The French Laundry?
I have been a member of the pastry team at Per Se since 2012. As I worked my way around the various stations of the pastry kitchen, I often heard intriguing tales of The French Laundry. Per Se and The French Laundry are united by a common passion and drive, sharing produce, team members and guests. I was fascinated by the idea of seeing the operations there first hand, and I was lucky enough to be granted the opportunity to do a stage there. 
What was it like working in a garden? 
I had a steep learning curve, as I had no previous experience in gardens or on farms. The French Laundry's farmers taught me about the importance of soil quality. They showed me how to make compost sweetened with molasses. I tilled the land, harvested produce such as carrots and beets and planted onion seeds and various varieties of cabbage seeds by hand. 
What were some of your favorite experiences during your stage at The French Laundry?
Working with Chef Elwyn in The French Laundry's kitchen with the fruits of the garden farmers' labor helped me understand the complete life cycle of the produce. He spoke often of the outstanding standard of the produce and how he allowed the fruits, flowers and herbs to shine, which might mean simply placing a selection of pine berries and strawberries in a bowl mere moments after being plucked from the bushes so guests can enjoy their freshness. Fruit that is still warm from the sun doesn't need overly contrived preparations. He also taught me about making distillations, infusions and chutneys.
Working with Chef Nick at Bouchon Bakery gave me the opportunity to appreciate production with the best ingredients on a larger scale.
Working at the K+M factory was an entirely new experience for me. I learned about the sorting of beans and the roasting, drying, winnowing, grinding and conching processes that the beans go through. After the raw beans were transformed into chocolate, I shelled bars of chocolate with the team and worked on the assembly line, bagging the bars and putting them into their finished packaging.
Spending time at the test kitchen was fascinating. I learned about their methodical testing processes, and about how they tap into technological advances to make sure that their work will be easily disseminated throughout the company, even when the chefs recreating their recipes are thousands of miles away or at sea.
I also attended one of Chef Keller's photo shoots, which provided me with a glimpse into the world of food styling.
What did you gain from your stage experience?
My stage presented me with a vast array of opportunities to advance my skills in spheres that I had never explored before, such as farming, chocolate production at a factory level and larger-scale production for Bouchon Bakery. It also offered me insight into the mind of Chef Elwyn and his sources of inspiration. It intensified my desire to strengthen the links between our two pastry departments, and I returned to Per Se reinvigorated and ready to give our guests the best experience imaginable.
How did your time at The French Laundry impact you?
After spending a month at the heart of our company in Yountville, I now have a deeper understanding and appreciation of the provenance of our values. Since returning to Per Se, I have shared what I learned with our pastry team, detailing my experiences with diaries and photos. If my trip has played a small role in ensuring that their passion is continuously reignited and reinforced, it will have been a success.
Photos from Elaine's stage: