Stage Story: Henry Molina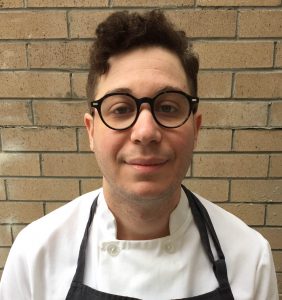 Henry chose to stage at Noma for the exposure to a new culture and new techniques.
I can say, without a doubt, that the experience I had eclipsed even my wildest expectations. I was pushed to the limits both mentally and physically, and although not without it's struggles, I received an education that has forever changed how I relate to food and to the world, as both a chef and a person.
Everyone begins their internship in the production kitchen. For the first two weeks of the program you are exposed to the unique ingredients of the restaurant and learn how to process them at levels ranging from their most basic (peeling walnuts) to the execution of more detail oriented recipes (processing kelp oil).
After two weeks interns are set on different paths. The idea is that during your three months you will rotate through all the station of the restaurant. On my third week I volunteered to work staff meal. This included planning the menu as well as working with the sous chef who managed the ordering. For a week, your only responsibilities are to cook both staff meals for the day. It's a great time to let your personality shine and show your skills to the staff. 
My fourth and fifth weeks I was sent to the forests, farms, and beaches of Denmark. I was foraging, one of the experiences I was most interested in doing. We were dropped off in locations in teams of two, given lists, buckets and bags, and then we hunted. We gathered everything from rose hip berries to live ants that tasted of the most extreme lemongrass. Truly an unforgettable experience.
For my sixth week I was brought downstairs to participate in service, where I was immediately given a lot of responsibility. I participated in service for six more weeks, ultimately mastering my section and gaining responsibility for every element of one of the dishes on the menu (from mise all the way to plating the dish and running food to guests and describing dishes). Eventually I was even entrusted with taking guests on kitchen tours of the entire restaurant. Service was one of the most challenging, stressful and ultimately rewarding tasks of my lifetime. The intensity at which it operates and the level of precise execution at breakneck speeds all the while remaining completely poised is a skill that will forever define how I operate in the kitchen.
On my final week I returned to the production kitchen to work private dining services directly with the sous chef. There I was able to cook and plate every dish on the menu, as well as deliver them to guests and explain dishes. A reward for a job well done, but also a great opportunity to cook through the entire menu of one of the best restaurants in the world.
I was lucky in that I got to see everything. While I did learn many tricks of the trade, having time removed from my daily routine and being placed into the pressure cooker that is Noma rendered me a more thoughtful, precise, and well rounded cook, and ultimately person.
Through foraging I learned to appreciate my surroundings. I genuinely care about where a product comes from because I've seen how much work it takes to get them there first hand. It is difficult to define the one thing that service at Noma has taught me, as so much of how it operates is now forever in my DNA as a cook. From the care in mise to the knowledge of each individual guest's likes and dislikes. From my development technically as a cook to simply how the ticketing and call system works. For the endurance it takes to work at that level of excellence for eighteen or more hours a day. There are so many elements of service that have helped me grow...
I have come away from this process forever changed as a cook. I'm not saying I'm returning to New York to serve a dish of herring with burt juniper leaves, I'm not a Scandinavian cook. But more so that seeing how Noma takes what is around them and filters that through their voice, their scope, their time and place has made me look at cooking in a completely different way. Cooking through such a complex menu with success has reemphasized my confidence in the evolution of my career. I couldn't be more thankful for this opportunity. I have a better understanding of not only what it means to be a chef, but also what it means to work with purpose in this form. The most important thing I achieved from this experience is a real and true sense of self. A better understanding of who I am, where I'm going, and who I want to be.