Stage Story: Hoon Rhee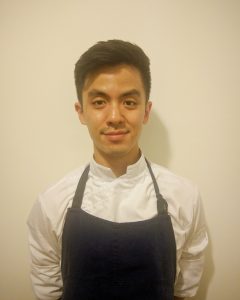 Tell us about your grant project and why you chose these restaurants.
My stages were for one month each at the restaurants Narisawa and L'effervescence in Tokyo, Japan. I specifically wanted to go to Japan as it has long been a culinary mecca for chefs, especially in the last two decades. Japan has centuries of culinary tradition of excellence yet it can still seem unapproachable to foreigners. Japan can also be very insulated and wary of foreigners so it can be difficult at times to find any opportunities to stage and learn. I wanted to stage at Narisawa and L'effervescence for a multitude of reasons. Both restaurants are well known internationally through various awards such as Michelin (both having received 2 stars) and the World's Top 50 list while also being recognized domestically as some of the best restaurants in Japan so both have been receptive to foreigners coming to stage. Both Chef Narisawa and Chef Namae trained in foreign or French kitchens but came back home and established distinct identities using various components of their background and training. Their food showcases Japanese products using a mix of foreign and Japanese techniques, which enabled me to have a familiar point of entry in French technique yet immersed me in Japanese ingredients and techniques that I was completely unfamiliar with. I find myself at times questioning how to combine my identity as a Korean American with my French training so I wanted to see how Chef Narisawa and Chef Namae were able to combine their own identities with their training at the highest level.
Describe what your internship experience was like.
At both restaurants, I arrived and was given the usual tour and rapid orientation expected in most kitchens. My primary role was essentially being a commis. My main objective was to help every station prep for service and execute our mise en place at the highest level possible. Both kitchens essentially were arranged in a French brigade system with garde manger, entremetier, fish roast, and meat roast. Although the kitchens were arranged this way, the ideal of community and teamwork is much more pervasive in Japanese culture as opposed to the individualism of the West. Therefore roles were broader as everyone was expected to pitch in wherever help was needed. Every station had set dishes that they were responsible for but were also expected to help with other dishes on other stations. It was common to see one of the Garde Manger cooks jump over to cook on the line and vice versa, especially as each kitchen consisted of no more than seven people including sous chefs and chef de cuisines. Every morning would begin around 8am with prep and receiving products that everyone at some point would help put away. The stages worked on prep for almost every station except for the meat roast which was usually handled by either a sous chef or chef de cuisine. Every day consisted of different prep for different stations whether it was cutting vegetables, cleaning crab, portioning mise en place, butchering fish, etc. The prep became routine after the first week but due to the hyper seasonal produce we received, the menu changed after the second week I was in either kitchen. Lineup would occur before each meal with the whole staff reviewing dietary restrictions, service notes, and general issues. Service ran differently in both kitchens with Narisawa having everyone except the roast cooks plating every dish while L'effervesecence had the chef de cuisine plating all hot dishes with assistance as needed.
What did you learn during your grant experience?
Being a foreigner in a kitchen, there were some major hurdles such as language barriers and cultural differences that I expected prior to my stages. As frustrating as they were, the common language of food prevailed and provided me with a multitude of learning experiences. To be completely immersed in a different culture is to expose yourself to new flavors, ingredients, techniques, methods, etc. that would not be as available elsewhere. Every day I was exposed to something I had either never seen or done before such as butchering turtle or cutting root vegetables that I am still unable to find an English name for. Not only was I able to have these new experiences but I was able to experience it at the highest level. I learned what was considered refined technique for the Japanese as opposed to the casual food I was eating outside of work on a daily basis. I learned variations of techniques I already knew and techniques I had never seen before. I learned new customs, new perspectives on food, and new treatments of products. I felt like I had restarted my culinary career and had to relearn all the skills I thought I had known.
What did you achieve through this internship and how has this opportunity helped you to advance your skills?
I was able to have the opportunity to immerse myself in a new culture and take myself completely out of my comfort zone, not only in the kitchen but in life as well. I had new experiences in every aspect of life whether it was trying to shop at a Japanese supermarket, seeing new sights, learning a new language, etc. This helped me grow not only as a chef but as a person as well. I find myself looking at food with a fresh perspective, integrating so much of what I had seen and done while in Tokyo. I obviously have a new set of skills in the kitchen but more importantly I have gained life experiences that have redirected my career path and have changed my perspective on food. My approach to tackling problems, challenges, and new opportunities has improved and I find myself thinking of new ideas within my own realm of food, using my stages as inspiration. I will be forever grateful to the Ment'or BKB Foundation for giving me a chance of a lifetime that would take years to achieve.