Stage Story: Ileene Cho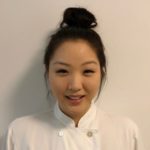 Ileene Cho selected Le Meurice in Paris, France for her stage experience. While there, she learned under Chef Cedric Grolet and was mentored in the fundamentals of pastry and what it means to work in an intense and fast paced kitchen environment.
Describe your grant project (location) and why you selected the restaurant.
I have always thought that learning and perfecting the fundamentals of pastry was one of the most important aspects in advancing throughout my career. France was the first place that came to mind when I thought of fundamentals. Working at L'appart made me realize what little I knew about classic French pastry. I chose to work under Chef Cedric Grolet at Le Meurice in Paris because I was very intrigued by everything he made. Not only does he make the classics well, but he brings a modern take to French pastry. He uses techniques unfamiliar to me and I learned these new skills along with techniques that I wanted to improve upon.
What was your internship like? What were your roles and responsibilities?
The moment I stepped into the pastry kitchen at Le Meurice I was very intimidated. I had never seen a more intense pastry team before. Everyone moved around so fast, swerving around one another trying to get their mise en place done. The pastry kitchen itself was very large, but somehow felt very small. There were around twenty-three people working at once in the space. I was very lucky because a few people spoke English pretty well.
The kitchen produced products for the hotel, restaurants, and the boutique. The pastry team was divided into stations. There was a station that produced for the boutique, the restaurant Le Meurice, and Le Dalí. Within these stations, it was broken up again. I was a commis for the "tour" station. This station produced most of the dough for the hotel. For example, the bread, lamination and tart shells were some of the products we produced. My day started at 7am along with the rest of the other commis. Every day, after working hard on production for a few hours, we would do a deep clean at 11am before the break. After our break my team prepared the afternoon tea in order for it to be ready by 3pm. We then completed another deep clean before going home. The time we went home varied depending on the amount of work left to complete each day. I felt grateful that I was given the opportunity to spend times on other stations and help when needed. Everyone I worked with during my time at Le Meurice was very helpful and willing to answer any questions I had.
What did you learn throughout your experience?
I had a difficult time at the beginning of the stage at Le Meurice. I knew there were jobs to be completed but, because there was a language barrier, I could not understand what was wanted of me. I was aware that other cooks were getting very frustrated because of the communication barrier. However, not knowing French also had its advantage. A lot of times it was easier for them to show me how they wanted it done rather than explain it to me, so even if I knew how to make the specific product, I watched them complete the task. Sometimes I learned how to make what I already knew another way. I felt like they had a trick to everything and knew how to do it even faster. I remember watching everyone around the kitchen and being intrigued by everything that was going on. For example, the way they make tarts shells from start to finish was something I had never seen before. Their tart dough had more butter than I was familiar with and they had a system on how to do it faster. They would grease the tart rings by putting soft butter on a cooper rod and sliding the rings in the rod and turned it until it was evenly coated. Once the tarts were lined and baked, I learned to spray the tarts with egg wash and bake it again to seal the shells and make them shine.
Summarize your achievements, and how this grant opportunity has helped you to advance your skills.
This entire experience was truly life changing. Not only did I learn invaluable skills in the kitchen, I learned about the French culture. It was my first time in Europe and before this trip, I was unfamiliar with the French lifestyle. It was a culture shock when, on my first day, I learned that I had to greet and say goodbye to everyone in the kitchen, besides the chefs, one by one with a kiss on both cheeks. There were a lot of people working in the kitchen. In the end, I grew accustomed to and began to like the idea of greeting and saying goodbye to everyone every day. I believe it shows professionalism and respect for your peers. My experience at Le Meurice showed me a different and new perspective on the pastry world. I am eternally grateful to ment'or for having been awarded this amazing opportunity.
Photos from Ileene's stage: