Stage Story: Jonathan Tiles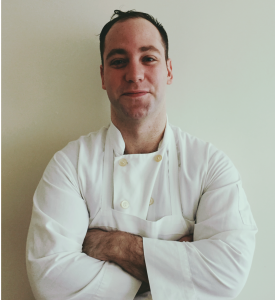 Jonathan, who was working at Gramercy Tavern at the time, staged at Stage Bird Provisions and Manresa. He is now a Sous Chef at Untitled in New York.
When I applied for this grant, I don't think I fully grasped the magnitude of what was being offered - a chance to drop everything and transplant myself into some of the country's best restaurants, both as a chef and patron. Also, it was an opportunity to contextualize our industry's restaurants by a variety of criteria such as regional trends, grow seasons and other more subtle nuances.
Major epiphanies regarding our industry would come in the form of subtle moments warranting a quick scribble in a notebook to be revisited days later: familiar ingredients used in unfamiliar ways. This grant also allowed me to expand my network of mentors well outside the limits of New York City. Upon returning I feel reinvigorated, eager to spend more time in the kitchen exploring and teaching techniques that I've learned along the way.
I wanted to place myself in restaurants that differed, both in style of cuisine and service, from Gramercy Tavern where I currently work. I wanted to work in restaurants that were effectively mitigating the inherent gap between food that is executed on a high level while still providing a relaxed dining experience for the guests. State Bird Provisions in San Francisco is offering a dining experience that embodies these major shifts in our industry. Stuart Brioza's one Michelin star market-driven restaurant uses the beloved dim sum model to deliver its food to guests. Carts and trays, carried and pushed throughout the dining room, offer Brioza's unique take on California cuisine.
This style of service allows cooks to serve food they have just cooked and explain, in detail, how each dish is made. Unlike more traditional restaurants, cooks learn a deeper appreciation for what happens after their food leaves the kitchen. State Birds' unique style of service creates a shared ownership between the front and back of house.
After my time at State Bird Provisions, I had to experience what it would feel like to be shoulder to shoulder with cooks who dedicate their lives to the 'ultra fine'. I wanted the precision; I wanted the intensity of focus; and maybe even I wanted to see if I had what it takes. My only choice could be Manresa.
David Kinch shares his vision in ways that marry the elegant with the approachable. Nothing about his food is alienating. But rather it is a reminder that food really can be this good, with flavors distinct and pure. Ingredients sourced from the best farmers in the area are prepared with the utmost attention to detail. Dining at Manresa on my last day, solidified for me how successfully they bridge sharp execution with congenial service.
When you join a team of this caliber for such a short period it is not as though you immediately jump in and begin cooking. Much of what this restaurant has to offer young chefs is discipline. It is the notion that the way we cook can always be better. The way we accommodate guests can always be more personal. These are the types of things you learn from a restaurant like Manresa--in addition to the plethora of interesting and new cooking techniques happening around you at all times. But cooking can be taught and practiced. Perhaps the much greater feat is getting a group of men and women to participate at the highest level for nothing more than a chance to be part of something the food community will hopefully deem important. Luckily, the men and women of Manresa can rest assured their efforts have not been in vain.
For me, the take away from each restaurant has been greatly enhanced when placed against the backdrop of other restaurants. Perspective, comparison, these are the words that will push our industry forward not only intellectually but make the output more delicious, the ultimate goal.
What has become ever more poignant is something David Kinch said to an audience I happened to be in one November at The Strand bookstore during his cookbook tour, years before we met. When asked if he had any advice for young chefs he replied, "It's important that young chefs understand that they are links in a chain. Links in a chain of restaurants that came before and that will come after." I carried this advice with me as a constant reminder to know my restaurant history, buying as many cookbooks of closed restaurants as I could, to no small financial detriment. Only recently have I fleshed out the second half of his advice. Only after we have placed ourselves in the context of restaurants that have come before can we become relevant. This advice transcends front and back of house, cooks, chefs, waiters alike. Only after we acknowledge and respect our collective restaurant history can we move forward to create a unique and interesting culinary future.