Stage Story: Kendall Ross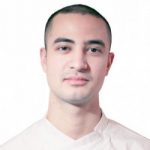 Kendall [The Broadmoor, Colorado Springs, CO] was keen to stage at Restaurant DANIEL to experience New York City and the culture of Chef Boulud's flagship kitchen, as well as to solidify his foundation in French technique. 
I wanted to work at DANIEL to focus on traditional cooking techniques. There is very little sous-vide, and almost everything is cooked in a pan. The restaurant uses forcemeats, pâtés, terrines, and many techniques that are uncommon today. They get the best ingredients from around the world, including many exotic ones that are flown in daily.
I grew up in Charlotte, North Carolina, and had never lived in a big city.  New York has some of the best restaurants in the world - I wanted to experience the culture and everything the city had to offer.
Before my stage, I had completed a three-year apprenticeship and, during this time, one of my mentors was Bertrand Bouquin. He was formerly the Executive Sous Chef at DANIEL and was instrumental in opening both Café Boulud and DANIEL. Under his suggestion, I decided that Restaurant DANIEL was the perfect place to refine my skills. DANIEL is a landmark. It is a prestigious restaurant that many chefs have passed through. I wanted the opportunity to pay homage to such an esteemed institution.
There are four different teams at DANIEL: prep, banquets, Feast and Fêtes, and the main line. During my time at DANIEL, I worked primarily with Feast and Fêtes, as well as with the banquet team and as a tournant in the main kitchen.
Feast and Fêtes is responsible for all of DANIEL's off-site events. My role was with the canapé team, working under Chef Josh Capone. A typical day would start at 9 am, setting up the kitchen with cutting boards and sanitizer, and replenishing the ice on the fish inventory. From then on we would start to mis en place for parties later in the day, stopping twice to eat lunch and dinner prepared by the family meal cook. In the late afternoon or early in the evening, we would begin to leave for events all around the city. 
The restaurant has a separate private dining room, and auxiliary kitchen used for banquets. My time with the banquet team was spent assisting canapés and doing vegetable cookery. Most of the banquet team was from France, including the sous chef, Florent Poulard. This was a great opportunity to pick up on a little French vocabulary. 
My time on the main line was spent as a tournant. My role was to support whoever needed the most help. During service I would help plate dishes, switching stations based on who was busiest. This was a great position to be in because I got to see everything in the kitchen.
I learned so much more about French cooking at DANIEL. During my apprenticeship, I was exposed to many different techniques, some of which, my colleagues lamented as being antiquated. At DANIEL, those techniques are prevalent and executed at the highest level in a modern setting. 
Chef Jean-Francois Bruel and Chef Eddy Leroux have long tenures at the restaurant. DANIEL, on an average night, does significantly more covers than restaurants of similar caliber, and they lead the brigade of 40 cooks extremely efficiently - everything from how the line communicates between stations, to how the pass and plating are organized. The tournants are distributed throughout the kitchen to make sure that no one fails. Every step is intentional, and every role is thought out. Systems are in place to make sure that the kitchen runs smoothly, and the food always goes out correctly.
This grant helped me to advance my skills. I've developed higher standards, more physical stamina, and a greater sense of urgency. I grew as a cook at DANIEL. When I first arrived, I thought I had a grasp on cooking, but it made me realize how little I knew. There was a constant process of relearning how to do everything. I spent three months at the restaurant. At first, I would only do small insignificant tasks, but as time went on, I was given more and more responsibilities. I grew into a leadership role helping and directing others. At the beginning with Feast and Fêtes, I could only assist with events, but by the end, I was trusted to execute them on my own. I learned to never sacrifice quality and always to push hard. It was a challenging and rewarding experience.