Stage Story: Latara Copes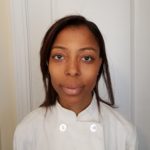 Latara opted to do her stage at Mirazur in the French Riviera because she wanted to know what it would be like to work at one of the best restaurants in the world.
Why did you decided to do your stage at Mirazur?
I became interested in Mirazur when I saw that it was included in The World's 50 Best Restaurants list in 2014. According to the list, Mirazur was the best restaurant in France, and the 11th best restaurant in the world, and I wanted to see why for myself.
What type of work did you do at Mirazur?
On my first day, I was introduced to the chefs and staff and was given a tour of the restaurant. Over the course of the next several days, I did lots of small jobs and observed the chefs while they were working.
I worked downstairs in the production kitchen during my second week. During that time, I worked from 8:30 a.m. until as late as 2:00 a.m., from Tuesday through Sunday. Everyone had Mondays off. I learned how to prep the bulk projects for the cooks in the fine dining kitchen located upstairs. I also assisted with the mise en place for pastry. Unfortunately, I could not work in the fine dining kitchen is because I did not speak Italian. However, I did get to work at the bread station upstairs occasionally.
During the next few weeks, my tasks included picking herbs and produce from the restaurant's garden, making the family meal and working on the mise en place when the restaurant hosted guest chefs from Central in Lima, Peru and Flocons de Sel in Megeve, France. Central was listed as #4 on The World's 50 Best Restaurants list, and Flocons de Sel has three Michelin stars.
What did you learn during your stage at Mirazur?
I am beyond grateful that I was able to spend time at Mirazur. Working with different personalities from different cultures, taught me to respect and be more forgiving of others. My communication skills were also enhanced as a result of this experience, which will help me going forward, both inside and outside the kitchen.
Photos from Latara's stage: