Stage Story: Lou Perella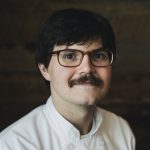 What made you interested in doing your stage at Attica?

When I applied for the ment'or Grant, Attica was really the only restaurant I ever had in mind. Rated number 33 in the world, number one in Australia, and awarded three hats from the Australian Good Food Guide (Australia's version on the Michelin Guide), Attica intrigued me not only because it was considered one of the best restaurants in the world, but also because it achieved that recognition by focusing on using and growing exclusively Australian ingredients.
As a chef in a country half a world away who is driven by locality, seasonality and relationships with farmers and local purveyors, Attica's philosophy spoke to me. Ben Shewry, a world-class chef who is impassioned by terrior, seasons, history, art, culture and gardening started Attica from nothing. He took a dying restaurant and transformed it into a world-renowned destination. While doing so, he found his culinary voice, balanced a growing family and embraced his celebrity by educating future chefs. I see myself following a very similar path, so I wanted to see up close and personal what it took to accomplish what Chef Ben has accomplished.
Aside from how Attica operates, Australia's cuisine and ingredients interested me greatly. 80% of Australia's flora are found only in Australia. There is a cache of ingredients available there that most chefs have never heard of, seen or tasted. I wanted to experience this native cuisine and understand how chefs with different resources operate. I expected to find similarities in flavors and textures and planned to adapt the techniques I observed on ingredients I would be able to find at home. I wanted to evaluate what was similar and different about cooking in Australia.
What was your experience at Attica like?
During my first few days there, I learned the restaurant's layout, schedule, practices and policies. I initially worked with a few different sections at Attica before being placed in charge of my own section. Attica has a core team of chefs who are responsible for the different sections of the kitchen (mains, pastry, larder, kangaroo and apples), and there are also multiple culinary school externs and stages from around the world who fill in the gaps in prep and service. On my first day at Attica, there was a frenzy among the cooks who all wanted to claim the "new guy" to help them out with prep.
The staff arrived at Attica each day at around 9:00 am. All of the chefs spent time in the garden each day picking the herbs, greens, and flowers for each day's service. Thursdays were garden maintenance days, which meant that we weeded, fertilized, removed dying plants and planted new ones. I arrived in Melbourne on the first day of spring, so our work in the Attica gardens was extensive during my three-month stage. I was also responsible for foraging in the Rippon Lea neighborhood for flowers and grass before returning to the kitchen. Upon my return, my daily tasks included prep for five different dishes. Once every two weeks, I was also responsible for family meal.
Service began at 6:00 p.m. and usually lasted until midnight. My job during service was to make sure that the chefs working with me were efficient and clean, dishes were completed in a timely manner, guests were entertained and wowed by our professionalism and courtesy, and that every dish was perfect.
What were some of the most valuable lessons you learned during your stage?
I grew up in the restaurant business. Restaurant jobs are essentially the only jobs I know. I started working in my parents' restaurant when I was 13 years old, and except for college, I have been working in restaurants ever since. However, fine dining was something that I was woefully ignorant about. I chose Attica so I could see the inner workings of a world-class fine dining restaurant first-hand. Consistency is always an important component of a successful restaurant, but at Attica it was paramount. No matter how many times a chef made a recipe, it had to be tested by a sous chef. Every protein was weighed to an exact amount. Every melon cut had to be a perfect wedge, and the plum powder on top had to be dusted evenly - not too much, not too little, and no patches. Every purple carrot on our kangaroo dish had to be placed so that it covered the tartare underneath, but not look purposefully placed.
Being in the garden every day taught me the growing cycle of different plants, how to care for a large plot of land and what the growing season in Australia is capable of producing. The native ingredients I worked with were like nothing I have tasted before, but were still familiar. Some of the native ingredients included lemon aspen, rye berries, saltbush, karkalla, eucalyptus, marron, kangaroo, emu, wattle seeds, geraldine wax, finger limes and many assorted herbs and flowers that grow exclusively in Australia. It was remarkable to see how similar, yet different, the ingredients native to Australia are to the ones that we use in the United States.
Perhaps the most important thing I learned during my stage at Attica was a sense of self-worth. For 12 weeks, I worked 80+ hours a week. Within just a few short days, I became more efficient, precise, clean and knowledgeable. I learned how to manage a section in a very demanding kitchen, and I was mentally prepared for anything that Attica might throw at me.
What will you do differently going forward as a result of your stage at Attica?
I feel so fortunate to have had the opportunity to work at one of the best restaurants in the world. They trusted me to run a section in their kitchen with the utmost confidence and respect. I have never worked as consistently hard as I did during my stage at Attica. Chef Ben Shewry told us during a kitchen meeting that working hard is not about the amount of hours a chef works, but rather how smart he or she works. I will see products a little differently from now on, find better ways to accomplish tasks and push myself to be better in every way without having someone directing me to do so. On my last night, Chef Ben said to me "whatever it is you do, make sure you do it to your best ability". I plan to put his advice into practice on a daily basis.
Photos from Lou's Stage: