Stage Story: Maciej Kilimnik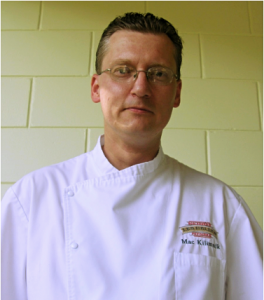 Drawn to New England, Maciej Kilimnik spent his month-long stage in Kennebunk, Maine at The White Barn Inn. He focused on making desserts on a small scale, experimented with molecular gastronomy, and worked with a staff of only 20-25 people.
What made you choose The White Barn Inn as the location for your stage?
The White Barn Inn remains the only AAA Five Diamond, Forbes Five Star restaurant north of New York City. It also boasts a long-standing reputation as one of the finest restaurants in New England. Executive Chef Jonathan Cartwright creates his dishes with a strong and classical European style cuisine, with special focus on locally caught seafood and amazing cheeses from state of Maine. His creations are changed weekly and always contain whatever vegetables are in season.
My externship took only four weeks, but it was a busy, as well as a very productive period in my professional career. Since there was such a huge number of renowned restaurants on the list, choosing my location was not an easy task, but, fortunately, I knew exactly what I was looking for and chose accordingly. I wanted it to be a very high standard restaurant at boutique hotel and The White Barn Inn, as a member of Relais & Chateaux, an organization known for its small, but sophisticated establishments, was a perfect candidate. After more thorough research, I realized that The White Barn Inn is also a member of a small, privately owned chain of hotels called Grace Hotels. It made me even more excited, since I knew it would bring another set of standards for me to meet. After completing my program, I can definitely tell that I made the right decision in choosing the location.
What is the atmosphere of the restaurant like?
The White Barn Inn is a very classy, sophisticated and luxurious property. Their motto is: "Ladies and Gentlemen serve Ladies and Gentlemen". At the same time, it is also quite small and cozy, which makes everything feel very personal and focused on each individual's needs. Quite frankly, this is the type of establishment I would love to – in near future – continue my career at. The entire staff equals about 20 – 25 people and the Pastry Chef practically works by him or herself. It can be challenging from time to time, but it also brings with it lot of satisfaction and rewards.
What were your duties in the kitchen?
At the very beginning, my duties were limited to helping with the simplest tasks and assisting the Pastry Chef, but as the days passed by my role became more important and the production I made was vital for the nightly mise en place. Making ice creams and sorbets, baking individual treats, preparing sets of pre-desserts became an everyday routine. Most importantly, each day, I was also involved in plating desserts during dinner service, which, after all, was the main goal of my internship. Since my internship took place during the month of February, I had the chance to collaborate in creating the St. Valentine's Day menu. Individual cakes of dark chocolate mousse, cherry gelée and white chocolate crunch were served with piece of drunken chocolate dipped cherry and French vanilla ice cream, which were a very big success. Also, during one of the weekends, I got involved in teaching a chocolate class for the customers of the hotel. It was a great chance to explain the different ways of tempering, demonstrating how to coat fruits, make truffles, as well as filigree dessert plates.
What skills and techniques did you learn, or improve upon, during your stage?
Since the majority of my present job is based on mass production, I found my time at The White Barn Inn very refreshing. Because Relais & Chateaux properties focus on the individual needs of each individual guest, I had to remind myself how to prepare my desserts in small quantities. Instead of kilograms I had to use grams, and instead of liters, milliliters. On quiet nights I didn't even do any major preparation in advance. Each dessert and pre-dessert was made à la minute, including soufflés.
While changing some items on the existing menu, the Pastry Chef and I had an opportunity to experiment a bit with molecular gastronomy. Calcium Lactate, Xantham Gum, Sodium Alginate or Maltodextrin were certainly a great fun to work with. Items like fruit caviar or chocolate powder simply wouldn't be possible without these chemical products. I certainly got hooked on it and plan to work with them in the near future.
Another thing I would like to mention here is pricing the menu. Since the hotel is a private investment, financial aspects are very important. During my internship, Chef Cartwright met with the board of directors of the property and got instructions on providing them with a price list of every single item that the restaurant sells. I have to say this task can be time consuming and challenging sometimes. It definitely is very amusing to watch chefs using micro scales in order to weigh a couple of peppercorns or a pinch of cinnamon, but on the other hand I completely understand the point of view of the owners and investors.
Last but not the least, I had a chance to learn and experience something unseen in big hotels. Allow me to call it "presenting and brainstorming". As soon as you have an interesting idea you plate it and open yourself up for constructive critique. Chefs and cooks gather, taste and provide opinions. I find it very helpful and am definitely going to use it as a reference in years to come.
How did this experience better prepare you as a chef?
Besides familiarizing myself with new menu and recipes, I had to learn a couple of skills that are characteristic mainly for small kitchens. Inventory and ordering are practically a daily routine. Each section of the kitchen could be compared it to small, private, independent unit that could exist by itself. Items on the menu change seasonally and flavors vary according to the availability of local produce. That means that crème brulée served in springtime will have a different flavor from the one served during the autumn or winter season. Chef Cartwright took some of his precious time and showed me how important this is for his operation. He is also in good relations with the loyal suppliers. A couple minutes of friendly conversation, a cup of coffee or a muffin guarantee access to the best product on the market.
Working and training with a new chef is always very exciting. Different techniques, styles, ideas, ways of presenting them or even palette of flavors are very individual and unique. That's why stage is so important to professional growth. All these things definitely provided me with a better understanding of the culinary business as well as prepared me for another step in my career, which is the position of Head Pastry Chef at an establishment similar to The White Barn Inn.
There is one more thing I would like to mention and it is something that young chefs often forget about and something equally important to culinary skills: chef networking. My great mentor Chef Mark Ramsdell once told me: "In this industry you will never achieve anything by yourself". My internship at The White Barn Inn made this fact much clearer. I have no doubts that the friendships and connections I made in Maine will help me in the near future to achieve my goals as a Pastry Chef.
Photos from Mac's stage: