Stage Story: Melissa Kuhn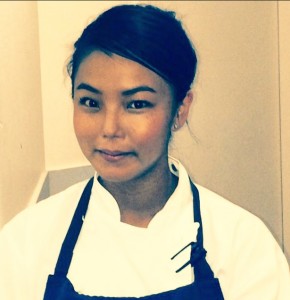 Melissa spent five weeks at Benu in San Francisco, CA for her stage. She was not only able to experience many different cooking techniques and produce, but was also encouraged to share her ideas through the culture of teamwork and creativity at the restaurant.
What kind of work did you do in the Benu kitchen?
I first worked with the morning Commis team who makes the stocks, sauce bases, accept produce, and complete the tasks on the Commis list. The Commis list generally includes cleaning and picking herbs, knife work and juicing. After I spent a few days with the prep team, I moved to the service side. I spent each week with a different station. I started on canapé, moved to garde manger, and then finished at the meat station. Each station has designated tasks that the interns complete. On the garde manger station, I assisted with a lot of knife work, portioning of noodles, and general preparation for the station. At the meat side, I helped the meat Sous Chef make the beggars' purses, which are produced daily. I also assisted with the meat Chef de Partie's general mise en place. During service, I was able to assist with plating at each of these various stations.
What was the most unexpected aspect of your experience?
I originally thought that Benu and Per Se would be fairly similar in technique. However there were many procedures such as the thousand-year-old egg, eel, sea snail, and chicken roe that I had never seen before. I have worked in a few Asian kitchens before but I was still able to see some products I have never worked with like rousong, acorn flour, and winter melon. Also most of the purées at the restaurant are cooked, puréed and then turned into Gellan blocks in the thermomix. It was valuable to see this purée method and what a difference it made in the end product. I also learned a lot more about fermentation, pickling, and drying which I had not seen before.
How has your experience at Benu influenced you as a chef?
This internship was a truly valuable experience that I will never forget. As a cook, knowledge and experiences shapes the chefs we become. Not only did my actual time in the kitchen teach me many new techniques and materials, but I was also able to eat at a lot of different restaurants in the area and try produce from a new region. I have never been able to stage anywhere before, and the experience helped me as a chef de partie. I feel I have a better understanding on how to work with stages and make their time most worthwhile. The internship also helped me advance my skills by inspiring me with new flavor profiles and different products. The experience also gave me a new frame of reference for how the restaurant I currently work at, Per Se, fits amongst other restaurants of similar caliber. Another great aspect of Benu was what they call "Noma." Every Saturday, the last day of the work week, the chefs de partie present a project or idea they have been working on. I thought this was very interesting and pushes the chefs to keep creating and experimenting.
Photos from Melissa's stage: