Stage Story: Michael Pini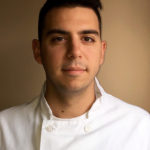 Michael, from The NoMad in New York, traveled to the northern part of Sweden to stage at Fäviken.
I was trying to think of a chef who cooks food in a simple way with a tremendous amount of focus, and right away Magnus Nilsson came to mind. When choosing Fäviken I had these preconceived ideas of what it would be like - beautiful landscapes, incredible produce, lots of preserves, and of course impeccable meat and fish.
Upon my arrival, I got a tour of Fäviken and, from that moment on, everything I saw surpassed all of my expectations. It was all just, better. Better than I thought it would ever be. The kitchen was so clean and organized. Every single cook in that kitchen worked with focus and determination. Determination to ensure that guests truly experienced Magnus' vision. As the tour continued, I was brought into the butchery. I was amazed to see dozens of perfect scallops that came from the waters of Norway and dairy cow, a variety of beef I have never tasted before, from Mörsil aging beautifully for months. From there, I visited the bakery where bread is made with nutty whole wheat flour, which has been milled just an hour away by Tina Goldmann at Ångsta Kvarn. It wasn't until I stepped foot in the root cellar that I realized how special this restaurant is. The cellar was full of ferments, homemade liquors, and vegetables stored from last autumn.
Within those few minutes my tour around Fäviken left me feeling inspired and ready to begin my journey. I was ready to challenge myself and watch how the kitchen transforms during each season. I knew Fäviken would be a place almost impossible to imagine, therefore I needed to go there and just see it for myself.
Fäviken is a restaurant in the northern part of Sweden, specifically Järpen. Located on a hunting estate which consists of 20,000 acres of farmland. Surrounding the land there are ponds, lakes, mountains and deep forests. All of which directly affect the way Magnus cooks.
The kitchen is divided into three sections. Protein, Garnish, and Pastry. Each chef de Partie has one stagiare. On top of that there is one sous chef, two assistant head chefs, one head chef and Magnus. During the day, there is a prep team which consists of two chef de parties and two stagiares who all work on larger projects and breakfast for the guests who stay overnight.
During my time there I was able to witness one of my favorite parts of nature, which is when the seasons change. Every day you see something new as the snow melts and plants begin to come back to life from the winter months.
Everybody started work at 12:30 with a quick meeting about the day. I started on the Garnish section working under a Chef de Partie, doing small vegetable work, measuring out things for service, and keeping the kitchen clean. Working together with my chef de Partie to get there in time for service. At 3:30 everybody goes upstairs in the staff dining room and enjoys a delicious lunch prepared by the sous chef. At 6pm we all cleaned the kitchen and had a meeting where the chef goes over a list so he knows that all the mise en place is done. Around 6:30-7:00 the guests start to arrive. Greeted by the chefs and servers it is the beginning of a very intimate dinner. During service I had a lot of responsibility, not so much with the cooking of the food but setting up the pass for every course, giving the chefs all the tools they need for every course and serving guests in the dining room. Every course was timed perfectly and every night was the same so getting better every day was a must. You were expected to do the same moves every night at the same time, perfectly, just like a ballet. Eventually I moved to the prep shift working on different tasks like preserving vegetables and foraging. Along the way I met so many skilled chefs that were so caring and willing to teach and because of them they have made my time there so special.
This grant experience made me learn so much more than just food. Learning how to live in a different country, in a tiny house with 3 other people from around the world isn't easy. But I have made the most amazing friendships with people I would never have met if not for this experience. I learned how cooking truly connects people. Whether it was during our staff meals at the restaurant or cooking at home with my fellow stagiares, cooking brought us together and allowed us to share memories that will last a lifetime.
At Fäviken I was able to work in three different sections allowing me to see many different aspects of the restaurant. From learning about different fermented foods, to aging meat for extensive periods of time, all the way to fishing in the pond on the estate with the assistant head chef, I have so much appreciation for my three months at Fäviken.
One of the biggest aspects of the kitchen is timing. This was something so miniscule but could really determine how the entire service would go. Everyone was expected to time out their whole prep day and push themselves everyday to be faster than the last. We needed to be ready every evening at six o'clock so we had enough time to settle down, greet the guests, and get in the right mindset for a very fast paced night. Timing was everything to give the guests an optimal experience.
I also learned so much about nature. I was sent out everyday to forage for juniper branches, pine, birch leaves, birch twigs, and different flowers and plants native to Scandinavia. This was a time in my day I looked forward to as it allowed me to step out of the fast paced kitchen and truly connect with nature. There were so many interesting products we would receive at the restaurant such as pine bark flour and birch sap syrup. These are just some of the rare and unique items we worked with in the kitchen that made Fäviken so special to me.
During my experience I feel like I gained more knowledge rather than physical skill. I was exposed to different products and learned how to store and prepare these products. As a cook, I remained focused no matter how crazy the kitchen felt. There were many services that pushed me to work even faster than before. This is a skill I am grateful to have learned during my time at Fäviken.
One of the most rewarding things I achieved at Fäviken is the life long relationships I built with my Fäviken family. It was truly a restaurant where everyone had each other's back to make sure each individual was successful. We enjoyed many sit down staff meals and even had the chance to spend time together on our days off. The relationships that were created in just three months are important for a restaurant to succeed. Keeping the staff happy and having a sense of teamwork through the whole restaurant encourages that success. You can tell Mangus instilled this mentality with every employee that walks through his kitchen. One of the most memorable nights for me was when he created a "pizzeria" in the prep kitchen where he cooked for all of us as we enjoyed fresh pizza and drinks. It was that night I realized not only is Magnus so involved with his food but also with his team.
It was so amazing learning about a new culture in the Swedish countryside where traditions are still kept close to heart. Although, Fäviken is a restaurant with employees from all over the world, everyone wanted to take on these Swedish traditions and truly immerse in the culture. Having candy on Saturdays is a Swedish tradition that we kept alive in the restaurant, as well as having Fika during our daily meetings which is basically the Swedish concept of having coffee and sweets. Of course trying different Swedish dishes like pannbiff med lök, which is a large meatball served with onions, potatoes, salted cucumbers and of course lingonberries. These were all traditions that were new to me but are now with me for a lifetime. I am so grateful for all of these different things I have learned during my time in Sweden and specifically at Fäviken.