Stage Story: Michelle Moran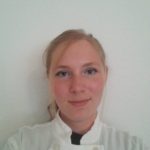 Michelle Moran wanted to work at a bakery where everything was made in-house. She grew both personally and professionally during her stage at Bribery Bakery in Austin. While there, she not only enhanced her baking and management skills, but also managed to overcome her social anxiety.
Why did you select this restaurant for your stage?
I wanted to work for a bakery that made everything in-house. I also wanted to enhance my baking knowledge and improve my management skills, and everything I knew about Bribery Bakery indicated that I could do all of those things there.
What types of responsibilities did you have at Bribery Bakery?
Along with the two other bakers who were on-site, I did dishes, cleaned, helped decorate cakes, assisted with inventory, received orders, packed items to be shipped to other locations, scaled dough and managed guests and registers as needed.
What did you learn during your stage that you can leverage going forward?
My experience allowed me to become a much better baker and pastry maker. I became more confident about working with recipes, and I learned the best methods and procedures for executing them. Working in a smaller-scale bakery than I was used to allowed me to learn the importance of working with leftover ingredients. I became familiar with pieces of equipment I had never used before, such as a sheeter. I mastered some tricky recipes, like the one for macarons. I discovered how important good management skills are, and I learned some great new tactics for handling employee issues.
I feel like I achieved a lot, both personally and professionally, during my stage. Now I have a much stronger baking foundation than I had before. I improved my management skills and learned how to work better with other people, both inside and outside the kitchen. I learned how to be more efficient. I gained new technical knowledge that I can apply when working on new recipes. Perhaps best of all, I had a personal breakthrough during my stage and overcame my social anxiety, which led to me having enough confidence to work at the Austin Food & Wine Festival.
Photos from Michelle's stage: