Stage Story: Randall Prudden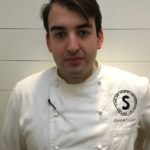 Randall Prudden divided his stage between two different restaurants: Pujol in Mexico City, and Maaemo in Oslo. Doing so allowed him to experience a variety of roles in two different kitchen atmospheres in two extremely dissimilar cities.
How did you choose the restaurants you staged for?
I was very fortunate to be able to separate my grant project into two very different experiences. The first was at Pujol in Mexico City. The second was at Maaemo in Oslo.
Mexican food is by far my favorite cuisine. It is what I cook for friends and family, and I spend a lot of time reading about it. I was particularly interested in working at Pujol because they utilize traditional Mexican ingredients, flavors and techniques, but they also add refinement and a creative twist to dishes that have been made for centuries.
I have always been fascinated by the attention to detail, cleanliness and beautiful ingredients that are pre-requisites for earning three Michelin stars, which is something that Maaemo has achieved. It is a dream of mine to run a very special restaurant like Maaemo one day.
What was it like to work at Pujol?
I was a member of the morning prep team. Because I do not speak Spanish very well, I got to spend most of my stage working alongside Sous Chef Daniel. He ran the morning prep team and did the butchery every day. This was very exciting to me because I do a good amount of butchery at Spoon and Stable, and I am good at it. Working alongside Chef Daniel was something that I looked forward to each day. He showed me how to handle the lengua (beef tongue), lechon (suckling pig), lamb, sole and rabbit. He also taught me about curing and drying meats. Chef Daniel was very particular about how things should be done, but I learned so much from him and was so grateful to have had the chance to work with him because interns and stagiaires rarely get to touch proteins, let alone be responsible for them! 
What was it like to work at Maaemo?
Maaemo is open Tuesday through Saturday. Employees work four days a week, but stagiaires work five days a week.
On the prep day, I was assigned to the meat and fish section. Once again, I had the opportunity to handle proteins. Additionally, Norway is home to some of the best shellfish in the entire world, so I was excited to work with those products as well. 
During dinner service, I would assist my chef de partie when time permitted. However, my top priority was running food into the dining room, which was downstairs from the kitchen. 22 stairs down from the kitchen, to be exact! 
Throughout my last week at Maaemo, I was allowed to describe courses to guests and participate in table side presentations.  
What did you take away from your grant experience?
I gained humility, perspective and vision. Before my stage, I was in a management position, but during my stage, I had to start at the bottom. In doing so, I saw that the herb picking, garnish work and cleaning jobs I had to do all served a purpose. I started to realize that I cannot be a good leader if I am not willing to do the tasks that I ask of my staff.
What were the biggest differences and similarities between Pujol and Maaemo?
The two cities I worked in could not have been more different. Mexico City is enormous, with incredibly high poverty levels. Oslo is a small city where people are well-compensated and have very relaxed work schedules. However, Pujol and Maaemo share a similar philosophy, which is that you do not have to manipulate food imported from thousands of miles away. In both restaurants, the beautiful local products speak for themselves. You will never find cocoa beans at Maaemo, just as you will never find reindeer at Pujol. 
How has this opportunity helped you?
My primary goal for this experience was to create lasting relationships with the people I work with. Although I was only able to spend a few weeks at each location, I managed to create both professional and personal relationships with the people I worked with. I value these relationships because you never know who you will be working with next, or who they might ultimately become. I want to ensure that the potential for collaboration and the exchange of ideas is there. Staff exchange programs are a possibility. A large professional network is not something that I plan on reserving for myself. The goal is to maintain these relationships so I can use them to aid my future employees and help expand my local restaurant scene. 
In addition, I became more adaptable. I learned how to manage a prep list while maintaining the highest standards and toughest time constraints. I sharpened my critical thinking skills by observing the way the head chef handled problems and thinking about what I would do in the same situation.
How will you apply what you learned at Pujol and Maaemo going forward?
The most important thing I have taken away from this experience is that I now have a vision of what I should be doing with my career. I want to take the techniques and ingredients of Mexican cuisine (many of which are native to Minnesota) and combine them with the discipline, cleanliness and fast-paced nature of a restaurant with three Michelin stars to create something that is unique to the Minneapolis dining scene, yet true to myself.
Photos from Randall's stage: