Stage Story: Rebecca Kozlowski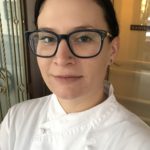 Currently a Pastry Sous Chef at Restaurant Daniel in New York City, Rebecca chose to spend her two-month Stage in Paris, France at the world-renowned Hotel Plaza Athenée.
Why did you select The Plaza Athenée for your stage?
I knew I wanted to travel to the home of pastry: France. The Plaza Athenée was undoubtedly my first choice of location because it has a special meaning to me and I admire all the impeccable pastries their team prepares for the hotel. When I began my pastry career four years ago I was both in pastry school and staging at Restaurant Daniel part time. My sous chef at the time taught me how to problem solve, the basics (and not so basics) of pastry, management and time organization skills, and how to work harder, better, faster, and stronger. He would tell us about the past kitchens in France where he trained, one of which being the Hotel Plaza Athenée under Christophe Michalak. The way he spoke of this kitchen I always dreamed to have a chance to one day train there as well.
What was your experience like at The Plaza Athenée?
Training at the Plaza Athenée my roles and responsibilities included the preparation of pastries for the tea time service, the exterior service on the terrace and in the Cour Jardin, the room service, and the Chariot. These were all separate locations with different sets of pastries for each. Working with the other team members we would make all the bases and components for the completion of each pastry such as glazes, creams and mousse, chocolate decorations, doughs, sorbets, pralines, croustillants, etc. In addition to the preparation of the components and execution of recipes, my responsibilities also included the building and decoration of each item. When the team had some free time, we would do tests and side projects for new pastries for the hotel, and at the end of the shift taste and discuss the final results.
Working in the kitchen is not only about the food, and as a part of the team I had other responsibilities besides preparation of desserts. Organizing and conducting inventory, cleaning or "ménage" of the kitchen, and stocking products were all part of the daily repertoire.
What lessons did you take from your experience?
In my time spent at the Plaza Athenée I learned an abundance of new techniques and different ways of going about preparing products. I experienced another style of pastry kitchen regulations, daily organizations, and management. I am excited to bring these alternative methods home to share with my Chef and team. In addition to new skills I've acquired, one aspect I really admired was the emphasis on team bonding and the appreciation of one another. In the morning, the team would make a point to stop five minutes, join and share a coffee and croissant from the boulangerie and have friendly conversation about soccer, weekend activities, or interesting new developments in the pastry world. Working in New York City where the speed is always fast moving I feel we forget how important those small five minutes can be for team development and connection.
This grant opportunity has helped to advance my skills in many ways. I now have a different viewpoint on the wide world of pastry. Working at the Hotel Plaza Athenée has opened my mind to new flavors, methods, and ideas that were such a pleasure to learn working alongside top chefs and their team. I have met so many great people through the program during my stage in Paris, people from all over the world- France, Italy, Polynesia, Israel to name a few. All of us working together to better ourselves and enhance our pastry knowledge by working at the Plaza Athenée. Having the opportunity to train alongside Meilleur Ouvrier de France (MOF) patisserie Chef Angelo Musa and Executive Pastry Chef Alexandre DeFeu was a moment that made me feel like anything is possible with hard work and dedication and passion for pastry. I will forever cherish and remember this lifetime experience and all the wisdom it has brought upon me.
Photos from Rebecca's stage: