Stage Story: Ryan Peters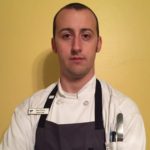 Ryan Peters learned many lessons during his stage at The French Laundry in Yountville, including the importance of the staff meal, having a sense of urgency and getting things done as quickly and efficiently as possible.
How did you end up selecting The French Laundry for your stage?
Chef Keller has been an inspiration to me over the years, and I really admire what he has created in Yountville. I knew that if I wanted to fully immerse myself in a great kitchen, The French Laundry would be the perfect place to do it.
What differentiates The French Laundry from other restaurants?
Everything there is done with a great amount of finesse and a sense of urgency. That was the first thing that really left an impression on me at The French Laundry. The sense of urgency that the chefs, cooks, porters and front-of-house staff had was incredible. Everyone is constantly pushing each other and challenging one another to get things done as quickly and efficiently as possible. Every staff member has a crucial role to play, and each of them takes his or her role very seriously. Time is precious at The French Laundry, and every move matters.
What did you learn that surprised you at The French Laundry?
I learned the importance of the staff meal. Staff meals at the French Laundry are taken very seriously, as they should be. Everyone gets involved. It is a time for the entire staff to slow down for a moment, have a meal together and prepare for the day's service.
What are your overall feelings about your experience?
I had never worked in a Michelin-starred restaurant before, so working at The French Laundry was really an eye-opener. It pushed me forward in the best way possible. I was able to bring so much of what I learned home with me. I met so many amazing, passionate and driven people there. I cherish those connections, and hope to maintain them throughout my career.
My stage at The French Laundry is an experience that I will carry with me for the rest of my life. It was hard work, but also incredibly rewarding. Chef Keller has built a world-class restaurant group and instilled good habits in chefs and cooks around the globe. I feel honored to have spent time there, and I have taken away so many of those good habits. I really want to thank Chef Keller and the entire team at The French Laundry. I learned something valuable from each and every one of them.
Photos from Ryan's stage: