Stage Story: Winnie Huang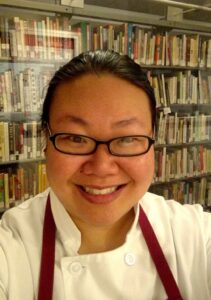 Winnie spent her stage at Tarte in Singapore. She not only reencountered traditional French pastry techniques that she had studied in culinary school but also learned how to incorporate local Asian flavors into her pastries. Most importantly, she discovered that practice is everything when it comes to becoming a master at your craft.
What made you want to Stage at Tarte?
As a female Asian American cook, I have not worked in many places where women were in leadership positions, let alone women of color. I wanted that experience and mentorship so I did a quick search online for Asia's Best Pastry Chefs. I found Cheryl Koh of 3 Michelin star restaurant Les Amis and French bakery Tarte. I was excited to work in both a restaurant and bakery setting.`
Can you describe what you did during your Stage?
Due to the Covid-19 pandemic and the mandates put in place in Singapore during my stage, the restaurant Les Amis was shut down and I was not able to work there. However, the bakery was deemed an essential business so I was able to work at Tarte for the entirety of my stage.
I was on the Pastry team for Tarte bakery. Everyday, my coworkers and I would take inventory of our ingredients as well as the pars of the day. Depending on the day of the week and any special orders we had, we had to adjust our mise en place everyday. At Tarte, they believed in fresh and seasonal ingredients so everything was made fresh that day. Everyday day, we would make about a dozen types of tarts/pastries. During holidays like Easter, we also made hot cross buns.
What stands out as some of the lessons that you learned during your experience?
It was entirely beneficial for me as a pastry chef to learn the importance of being dedicated to your craft and your work from Chef Cheryl and her right hand person, Chef Kelly. In our line of work, practice is everything. We do not become better at something without doing it day after day. Pastry encompasses a wide range of topics and skill sets. But to be a master at any of them requires us to be dedicated to it day after day.
In addition, we learn all sorts of techniques during culinary school - despite this, they aren't always used in the kitchen, so my stage allowed me to practice those very techniques in a professional setting. A technique I really enjoyed revisiting was piping. In particular, the one I was most proud of was piping meringue into a beautiful spiral while spinning the tart on a cake stand. I also learned how to incorporate local Asian flavors in my pastries. For example, we used pandan and coconut, Wakayama oranges from Japan, and mangoes from India.
In all, I found that kitchen life isn't all that different halfway across the globe, even during the beginning of a pandemic. I watched as the bakery business pivoted to adjust to life with government mandates in place. It was an honor to be part of such a strong team that adjusted to all the obstacles that were thrown their way. I had the most amazing experience working and learning in Singapore along with all my culinary colleagues.