Chef Dave Beran
Team USA Advisor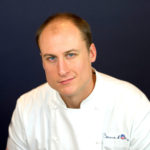 Dave Beran graduated with a B.A. in business from Lake Forest College, but it was a summer job at Latitude Restaurant in Bay Harbour, Michigan where he discovered his passion for cooking. After completing his formal education, Dave worked in Chicago at MK, promoted to tournant in a short time before leaving to work at Tru. Dave joined the Alinea kitchen in early 2006 and moved quickly through the ranks by displaying a native intelligence for food preparation, creativity, and attention to detail. He was promoted to the rank of Chef de Cuisine in July, 2008.  In 2011 he left Alinea to open Next as the executive chef.
Since Next opened Dave has researched, developed, and executed fifteen distinctive menus exploring cuisine from around the world — Thailand to Paris to Sicily to Kyoto to Vegan.  Fourteen of those menus have received the highest 4-Star rating from the Chicago Tribune.  Chef Beran has been nominated three times for James Beard awards including both rising star and best chef Great Lakes, ultimately winning best chef great lakes in 2014.  Additionally, Next won a James beard for Best New Restaurant in America under his leadership.  In 2014 Dave was named best new chef by food and wine magazine. 
In April of 2016 Dave worked his final service at Next and bid Chicago a fond farewell as he announced not only his departure from Next, but also the city he called home for nearly seventeen years.  He is currently living in Los Angeles and in the process of opening his own concept.
Though his spare time is sparse, he makes time to write and train for both marathons and triathlons.