Team USA 2023
Team USA President Chef Gavin Kaysen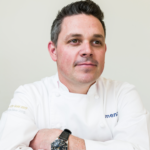 Gavin Kaysen
President, Team USA
There is nothing quite like the frenetic and fleeting seasonality of the upper Midwest to inspire a soulful cook. For Chef Gavin Kaysen, an old soul at heart, this idea beckoned him back home to Minneapolis to open Spoon and Stable, a 2015 James Beard Award Finalist for Best New Restaurant, in the North Loop neighborhood in fall 2014. "Cooking is very emotional for me; I have to cook how I feel," Kaysen says. "There's something to be said for how you feel emotionally as one season gives way to the next, when it snows, rains, or is sunny. I never thought about that growing up here, but coming back, I see that now."
Even though the award-winning chef has cooked in top kitchens throughout the U.S. and Europe, Kaysen gravitates most toward traditional Heartland dishes—the kind he grew up eating and cooking. "I love the classics. Starting with my grandmother, we always cooked very classical American dishes, like pot roast and chicken. I'm taking the knowledge I have now to shift, change, and morph those at Spoon and Stable."
The chef refined his dexterity in contemporary American fine dining by dedicating time to some of the world's best restaurants. After graduating in 2001 from the New England Culinary Institute in Montpelier, VT, Kaysen worked at Domaine Chandon in Yountville, CA; L'Auberge de Lavaux in Lausanne, Switzerland; and the famed L'Escargot in London, before becoming executive chef at El Bizcocho in San Diego, where he was named one of Food & Wine magazine's Best New Chefs. In late 2007, he joined Chef Daniel Boulud as chef de cuisine of Café Boulud in New York City, where he later earned the James Beard Rising Star Chef award and a coveted Michelin star. While there, he discovered so much more than tangible, technical skills. "It was like getting my master's and PhD with Daniel and his organization," he explains. "I learned so much about hospitality, about the business, cooking—but more importantly, I learned a lot about soulful food. When he cooks, it's all about spontaneity, which I have discovered is how I really thrive, too."
Today, Kaysen helps the next generation of young culinarians refine their skills in the kitchen. He is one of the founding mentors of the nonprofit ment'or BKB Foundation (formerly Bocuse d'Or USA Foundation), for which he currently serves as Team USA's head coach in preparing for the famed biennial culinary competition that showcases the world's best up-and-coming chefs. Kaysen brings an intimate knowledge of the Bocuse d'Or competition, as he proudly represented the U.S.A. in 2007. In 2015, he successfully led Team USA to a record-breaking Second Place victory, the first medal and podium placement for the United States. 2015 set the stage for future success, and in 2017 Team USA stood proudly on the podium, having won the gold for the first time ever!
Kaysen lives in Minneapolis with his wife and two sons. In his spare time, he tends to the strawberries, peppers, zucchini, cilantro, basil, thyme, rosemary, and tomatoes growing in his home garden.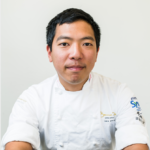 Jeffery Hayashi
Head Chef, Team USA 2023
Chef Jeffery Hayashi is Chef de Cuisine of the acclaimed Senia Restaurant in Honolulu, Hawaii. Hayashi, originally from Oahu, moved to Arizona at age four and spent the bulk of his upbringing on the mainland, though visited his grandparents in Hawaii throughout his childhood. While culinary arts were not his passion in his formative years, he spent his time focused on building, art, and creating things with his hands, which led him to study architecture at Arizona State University. After realizing that architecture wasn't his path, Hayashi serendipitously was introduced to French-Australian Chef Philippe Padovani, who had made a name for himself in Hawaii. Philippe, who had learned cooking by fire in the kitchen, encouraged Hayashi to come and work for him as an apprentice, as Padovani opened his namesake, Padovani Grill. Hayashi, who had never worked in a kitchen before but liked hand crafts, worked for Padovani as an apprentice for a year and a half before moving to Vintage Cave as a commis under Chef Chris Kajioka. Kajioka then convinced Hayashi to join him on the team for Chef Mourad Lahlou's new restaurant in San Francisco, Mourad, in 2014. Hayashi worked as Executive Sous Chef at Mourad for four years, at which time the restaurant earned one Michelin star, among other awards and accolades for its Moroccan fine dining cuisine. In 2018, Hayashi headed back to Hawaii to work at Senia, the elevated Hawaiian restaurant opened in 2016 by both Kajioka and Chef Anthony Rush, where Hayashi served as the Chef de Cuisine. Senia has garnered national attention, including a pre-opening feature in the New York Times, and Eater named it one of the year's most anticipated restaurants. Chef Jeffery Hayashi funnels his creativity and hand-crafting solely through his cooking, though his love of the outdoors is where he spends his free time - surfing, hiking, anywhere that he can immerse himself in nature.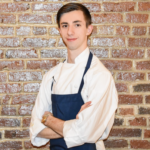 Franco Fugel
Commis, Team USA 2023
Commis Franco Fugel, originally from New York, found his love for food and entrepreneurship early on, from competing on Chopped: Teen Tournament at age fourteen to founding a gelato business, "Franco Gelato," at age eleven. He is most inspired by French-Italian cuisine, stemming from his Italian heritage. This passion has led him to pursue work in Michelin-rated restaurants such as The NoMad, Ai Fiori, and Per Se, all of which have only furthered his love for food. A recent graduate from the Culinary Institute of America, Fugel developed a love for all subjects revolving around food, wine, and business. He received the Christian Wölffer Scholarship by the James Beard Foundation in 2018, as well as the Culinary Institute of America's prestigious Founder's Management Award and Jacob Rosenthal Award for Leadership. Amid the Covid-19 pandemic, Fugel co-founded a magazine of interviews and recipes from food and beverage industry professionals, aptly named "For the Table". Furthermore, Fugel earned his Level 1 Certification in Wines at the end of 2021, presented by the Wine and Spirit Education Trust of London. He is currently working towards receiving his Masters of Science in Management from the University of Illinois, focusing on project management and business valuation. Fugel also enjoys golfing and biking.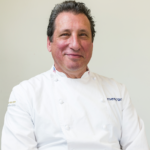 Robert Sulatycky
Head Coach, Team USA 2023
Chef Robert Sulatycky has a long history with the Bocuse d'Or. Representing Canada in 1999, he placed fourth and was awarded the "Prix Viande" or best meat prize. He has since mentored both Canadian and American chef candidates and was honored to be a member of the international jury for the 2007 and 2013 edition of the competition. His culinary career has taken him to the helms of the kitchens of Four Seasons Hotels in Toronto and Chicago. This was then followed by simultaneously leading the brigades at the Beverly Hills Hotel and Hotel Bel Air where he had the pleasure of cooking for Hollywood stars. Chef Sulatycky's passion for wine has also taken him to Napa, CA where he is the managing director of Mithra Winery. A small production, boutique winery located on Mount Veeder; Mithra has a reputation of producing exceptional cabernet sauvignons. Sulatycky is the president and co-founder of iQKitchen Inc., a technology company that has developed simple and intuitive app based solutions to many of the basic challenges that chefs face in the kitchen. He served as Assistant Coach for Team USA 2017 and Head Coach for Team USA 2019.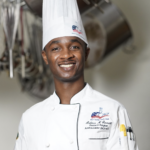 Ashten Garrett
Team Assistant, Team USA 2023
Garrett, born and raised in Copley, Ohio, fell in love with cooking after experimenting with an Easy-bake Oven he received for Christmas at three years old. He is a recent graduate of Johnson and Wales University and The Florence University of Arts in Florence, Italy, and a 2020 Ment'or BKB Grantee. Since graduating, he has traveled extensively to Italy, Spain, and France, honing his palate and learning new culinary techniques. He also competed on and won Food Network's Guy's Grocery Games and is scheduled to appear on Beat Bobby Flay. Most recently, Garrett has been working at the Ritz-Carlton Hotel in Cleveland, Ohio, for the past year and has been recognized for his numerous culinary and hospitality achievements by organizations such as Forbes, The James Beard Foundation, Bon Appetit Magazine, and the American Culinary Federation, which awarded him the prestigious L. Edwin Brown Hospitality Professionalism Excellence Award in 2021.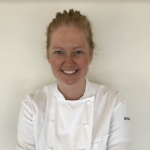 April Johnson
Team Assistant, Team USA 2023
Johnson was born and raised in South Dakota. She was first exposed to the world of culinary competitions in high school when she competed in Prostart and Skills USA competitions. She later graduated from the Culinary Institute of America at Hyde Park and has worked at the Chevy Chase Club, Ocean House, and as a restaurant chef at Myers Park Country Club. Most recently, she held the position of line cook at Press in St. Helena, CA. In 2020, Johnson was an apprentice for the ACF National Culinary Olympic Team that received a silver and bronze medal at the IKA in Stuttgart, Germany. The Chaine des Rotisseurs awarded her the Académie Brillat-Saverin Medal and she took second place in the Chaine's Jeunes Chefs South Central Regional Competition in 2021. She joins Team USA for the 2023 Bocuse d'Or as Team Assistant.