Bocuse d'Or Team USA 2019 National Selection
November 9, 2017 @ 9:00 AM

-

November 10, 2017 @ 6:30 PM

After our historic Gold Medal win at the 2017 Bocuse d'Or, we invite you to join us for another award-winning USA moment, as we return to the Venetian Las Vegas to select the next Team USA. Three candidates will compete live to represent Team USA 2019: 
Ben Grupe, Elaia & Olio, St. Louis, MO 
Jeffery Hayashi, Mourad, San Francisco, CA
Matthew Kirkley, COI, San Francisco, CA
Join hosts Daniel Boulud, Thomas Keller, Gavin Kaysen, Robert Sulatycky, Mathew Peters, and Chef Jury members Paul Bartolotta, William Bradley, Josiah Citrin, Justin Cogley, Gerard Craft, Chris Hastings, Roland Henin, Michelle Karr-Ueoka, James Kent, Gabriel Kreuther, André Natera, Roland Passot, Rich Rosendale, André Soltner and Philip Tessier.
Team USA 2019 Selection
The Palazzo Ballroom, Venetian Las Vegas | Thursday, November 9, 2017
9:00 AM | Doors open
2:00 PM | Presentations begin
4:00 PM | Awards Ceremony
Pricing Options
$50 (plus fees)/ All-day pass to Team USA 2019 National Selection & Awards Ceremony
$75 (plus fees)/ All-day pass + copy of Chasing Bocuse: America's Journey to the Culinary World Stage
Team USA Celebration Dinner
Bouchon at The Venetian | Thursday, November 9, 2017
7:30 PM
Price: $225 per person, plus tax
Tickets may be purchased online or through any Venetian or Palazzo Box office or by calling 702.414.9000 or 866.641.7469.
For more details click here.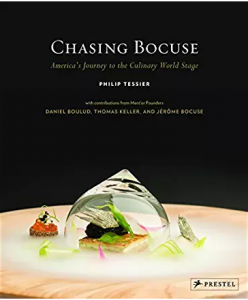 Chasing Bocuse: America's Journey to the Culinary World Stage is a behind-the-scenes look at Team USA throughout every stage of training for the Bocuse d'Or, from the darkest struggles to the greatest triumphs. With excerpts from the 2015 and 2017 teams, coaches and supporters, our story is told from numerous vantage points of how America's best chefs united in the pursuit of gold at this storied competition.
These pages are filled with 200 stunning photographs and nearly 40 recipes from each of the coaches and advisors that supported the teams over the past four years. 
If you are unable to attend the event but would like to support Team USA by making a contribution to ment'or, please click here.
Terms & Conditions: Tickets are non-refundable and proceeds will be donated to ment'or. Tickets have a fair market value of $50/person and books have a fair market value of $49.95/book. Please consult your tax advisor regarding deductibility. Must be 21 years of age or older to consume alcohol; please drink responsibly. Details and chefs are subject to change.
Ment'or has been recognized as a tax-exempt organization under section 501(c)(3) of the Internal Revenue Code. Donations will be tax deductible and may be disclosed to the IRS.