Stage Story: Hernan Martinez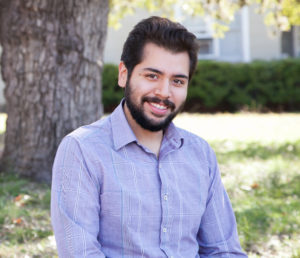 Hernan went to San Francisco for three months to learn more about wine and the wineries in California. He was also trained on front of house roles and worked with the food running team.
Where did you decide to stage?
My grant project allowed me the opportunity to work at RN74 in San Francisco, CA for three months and I was able to immerse myself into the cuisine and wine of this restaurant. I first learned about RN74 when reading Rajat Parr's, Secrets of the Sommeliers. I became inspired immediately, and what resonated most with me from the writings of Parr was the idea of how important it is to have a strong team of mentors. My goal, in working at this restaurant, was to surround myself with people that have the same passion for wine. I wanted to combine my wine studies with wine tasting in order to reach a higher level. While working at RN74, I was also able to take advantage of visiting wineries in Sonoma and Napa, which were just a short drive away. All this, while living in a bustling food scene of a city, made my grant experience exceptional. I could not have asked to work for a better restaurant and setting to garner knowledge. Not only was I able to learn a great deal, but I also was able to call the RN74 team family.
What did your stage entail?
During the first month of my experience, my goal was to acclimate myself with the different front of house roles and each of their daily duties and responsibilities. General Manager Lucas Riemens was very gratuitous in understanding my position and introducing me to the entire team. First, I worked with the bussing team to begin to understand the steps of service. I needed to see what and how everything should be done while on the floor. In order to learn the basics from the beginning, I spent my time learning simpler things like how to greet, mark, and reset tables correctly. My goal was to learn to be helpful and efficient for the busy servers and sommeliers on the floor.
Within about a week, my training moved on to the food running team. In this position, I was able to have a closer look at the kitchen and understand how to prepare the expo line for dinner service. Mise en place for the line and the expo was the main priority for this position. This was an integral part of my training as it allowed me to delve into the food menu and know it as best as I possibly could by simply watching the chefs cook. The regional French menu featured a combination of classic and modern interpretations by Executive Chef Michael Lee Rafidi, including rich bone marrow, escargot croissants and foie gras donuts.
Shortly after spending time in the kitchen, I began to shadow servers for a week to gain a sense of proper timing and communication with Chef Rafidi in the kitchen. Eventually, with the help of my teammates, I began to take sections successfully on the dining room floor. Once I had completed the initial training, I would finally be able to train with the team of sommeliers.
Did you consider anyone there a mentor or someone you looked up to?
Lead Sommelier David Castleberry was a great person to be able to call a mentor during my grant experience. He, along with the rest of the sommelier team, provided a great deal of knowledge and wisdom when it came to anything wine related. Not only was it a serious atmosphere, but the team also kept it a very fun one where you can feel comfortable enough to laugh and joke. The entire team was friendly and made sure I had any questions answered. I finished out the majority of my final two months under the sommelier team where I was lucky enough to taste many amazing wines. It truly was an honor to have had the opportunity to work alongside the entire staff. By the end of the experience, I was very comfortable assisting in any area of the restaurant I could make myself useful in.
What skills did you learn at RN74?
While working under the sommelier team, I first learned how to take care of the opening duties before service. This included stocking new wine deliveries in the cellar, checking inventory for bottles that are ruined or running low, updating all wine lists with correct wine counts, etc. All of this was done using the online beverage management program called BinWise. Once I learned how to navigate it, I was able to help the team by updating inventory with small daily changes based on the sales of the night before. It was very enlightening to have learned a system like BinWise and how to help maintain a cellar of roughly 3,000 bottles. After a few training days of supervised opening shifts, I was soon performing the opening duties independently. I was able to get into a routine that I really enjoyed. It might not seem glamorous, but spending my day in the cellar was a lot fun. One of my favorite things to do was to go through and familiarize myself with as many bottle labels as I could. I wanted to gain a good base knowledge of reputable producers in classic wine-growing regions. Producers like Jamet, Latour and Moreau I wanted to recognize immediately. Another great aspect was that I was able to consistently taste wines from all over Burgundy. With the help of the sommelier team, I learned how to distinguish the subtle nuances of varying Burgundian vintages and producers. Weekly wine training meetings were held in order to create a more well-rounded level of knowledge for the entire front of house staff. This is where I learned very specific tasting techniques for both red and white wines of Burgundy, and from all over the world. The meetings were a way to discuss the wine at hand openly with other team members who had varying levels of knowledge. The combination of working with inventory and tasting with the sommeliers really helped me to build knowledge of wine, which I would not have been able to do otherwise. In addition to tasting techniques, I also learned ways in which to talk about wine to a guest in an understandable and intelligent way. Speaking to a guest about wine involved not only educating them, but also making them feel comfortable with you and verbiage.
How did you grow through this program?
From the beginning, this internship challenged me to push myself for new opportunities. I was fortunate enough to be a recipient of this grant, and it helped me reach a level of experience that is invaluable. It was incredible to have worked alongside people that were willing to teach and mentor you into an exciting profession in the city of San Francisco. This experience helped me become more adaptable and versatile in front of the house training. Seeing a different style of service broadened my view of how a dinner service can be run successfully.
One thing that I wanted to ensure during my internship was my contribution to the team. As an intern, I wanted to not only to be able to learn from my peers, but also to contribute to the team effort during every service that I worked. By the end of my internship, I felt I achieved that by constantly being of assistance in any area I possibly could. Overall, I would say the wine knowledge I garnered made the biggest impact on me. It was refreshing to be surrounded by individuals who shared the same passion and who were open to helping an aspiring service industry professional.
I achieved my goal of wanting to return from this experience with the confidence and drive to reach the CMS Level 2 certification before the end of this year. I feel equipped with tasting techniques and information from the three months I spent working with the RN74 team. Because of the ment'or grant, I have a clearer vision of where I want my career to go, too. It solidified to me that this is the profession I wish to excel in. My next goals are to attain my Level 2 and work up to a full-time sommelier position. Eventually, I want to be able to use my experience to work or study in Europe. I have been inspired to travel to wine regions all over the world and immerse myself in different cultures and traditions. I could not have gotten to where I am today without this opportunity. I thank everyone who facilitated this entire experience and will ensure that the knowledge I garnered be used and passed on to the next mentee.
Photos from Hernan's stage: