Stage Story: Vincenzo Loseto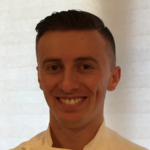 Vincenzo Loseto wanted to work with unfamiliar ingredients, so he decided to stage at Noma in Copenhagen, where his horizons were broadened by foods such as reindeer moss and scallop "fudge."
Why did you choose Noma for your stage?
I wanted to be exposed to ingredients, techniques and flavors that I had never experienced before. Noma is known for their dedication to foraging, fermenting and sourcing locally, so working there appealed to me. Additionally, Copenhagen is widely considered to be one of the happiest places in the world. Plus, I am very active, so I also liked the fact that most Danes bike everywhere.
What was your experience at Noma like?
My first day at Noma was sort of strange. Interns usually start in groups of 10-15 people at a time, but my participation in the Young Chef Competition (which I won!) forced me to change my start date, which resulted in me starting my internship alone. On my first day, I walked through the kitchen, found the chef jackets and aprons tucked away in little cupboards, got dressed and headed right into the kitchen. I did not speak to anyone, nor did anyone speak to me. It was 7:00 a.m., and the staff was blasting some hardcore European techno music that was so loud I could not hear myself think. I just kept my head down and followed what the interns next to me were doing. After a few weeks, I was given plenty of responsibilities that directly impacted service and the food being served to the guests. I got to work in the service kitchen alongside all the hired chef de parties, plating and serving the guests. I really enjoyed working with chefs from around the world. At the end of my stage, I was working in all four sections of the service kitchen, helping with mise en place and plating dishes. By that point, I felt less like an intern, and more like an actual Noma chef.
What did you learn during your time at Noma?
During my grant experience, I learned far more than I ever imagined I would. Within the first week, I was able to identify and prepare previously unfamiliar ingredients like sea beans, oxalis, lemon thyme, reindeer moss, pine and sorrel. During the second week, I prepared the family meal and learned to bite my tongue and refrain from arguing with my chef over stupid things. From weeks three through four, I prepared the juice for the juice pairing that Noma offered with their lunch and dinner menus. I prepared cold food from weeks five through seven. During that time, I learned how to make fresh cheese curd, as well as ant paste which, to my surprise, was very tasty. I was also shown how to identify and pick the indigenous greens and herbs used for Noma's grilled turbot dish, and was taught how to make a variety of oils, including kelp, koji and rose. In weeks eight and nine, I worked on the hot station and prepared items like shrimp raviolis made from nasturtium leaves. Weeks ten through twelve were the most exciting ones for me. During that time, I learned how to make an amazing scallop "fudge" that was created by blending and dehydrating fresh scallops, and then blending those with oil and beeswax. The finished product resembled a delicate fudge and was used to dress the grilled greens dish. Week eleven was the week of the MAD Symposium, which I was given the opportunity to attend. I learned so much from each of the speakers, but the talk that stuck with me the most was the one that Kat Kinsman gave about mental health in the kitchen. She taught me that it is possible to live a healthy lifestyle while being a chef. Weeks twelve through thirteen were my final weeks at Noma. In addition to helping out at all the stations in the service kitchen and plating almost every dish on the menu, I also gave a few tables tours of the kitchen, which was a huge responsibility, but also a lot of fun.
How has this opportunity helped you to advance your skills?
I stepped outside of my comfort zone. I achieved what I once thought was impossible. Working at Noma was always something that I talked about, but never thought would happen. My time there taught me that if you push yourself, you can achieve anything.
My experience at Noma broadened my skill set and increased my drive exponentially. I became a better cook in just three short months. Because of my internship, my plating is more precise, I am working more efficiently and I have become incredibly motivated.
Photos from Vincenzo's stage: