Team USA Wins Gold at the 2017 Bocuse d'Or Culinary Competition in Lyon, France, the Country's Second Podium Placement in History!
Ment'or proudly announces Team USA's first gold medal win and second consecutive podium placement at the 2017 Bocuse d'Or. Over the course of the past two days, 24 teams of the most gifted culinary minds from across the world competed on behalf of their country and represented their nation at the world's most prestigious cooking competition. Head Chef Mathew Peters and Commis Harrison Turone competed on January 25th and presented the acclaimed panel of judges with their first place interpretation of Chicken and Crayfish, and for the first time a wholly vegetal dish using only fruits, vegetables, grains and legumes.
"First of all, it is an honor to be a part of the 30th anniversary year of the Bocuse d'Or. Chef Paul Bocuse, for whom this most prestigious of culinary events is named. To coordinate the USA's participation in Bocuse d'Or, and carry on Monsieur Paul's legacy of mentorship, has been one of my greatest joys," says Chef Thomas Keller, president of ment'or. "Team USA's historic first-place finish this week is the result of years of dedication and commitment. It was Paul Bocuse's personal wish to see the United States on the podium at Bocuse d'Or that inspired me, as well as my friends Daniel Boulud and Jerome Bocuse, to become invested. I want to acknowledge all of the chefs, coaches, supporters and mentors who have been a part of the Team USA effort—it is because of you that we are in this position. And finally, I want to thank my friend Monsieur Paul for asking me to be a part of this, and for all that he has done for USA and the culinary world in general."
Chef Mathew Peters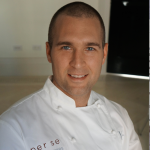 Chef Peters grew up in Meadville, Pennsylvania and began cooking as a teenager with his family. As a senior in high school, he was inspired to cook professionally after he was captivated by the Great Chefs of the World TV show. At 19, Chef Peters enrolled in culinary school at Le Cordon Bleu in Pittsburgh. Upon graduation, he moved to Naples, Florida where he worked for the Ritz Carlton in the infamous Dining Room among many other notable chefs. After years of honing his skills in Naples, he set his sights on New York City and took his first job in the city at Adour Alain Ducasse. He continued to work there until he was offered a position at Per Se in 2009. Chef Peters worked his way up from commis to chef de partie, and eventually up to sous chef. Shortly after he became a sous chef at Per Se, Chef Keller offered him the opportunity to work as a sous chef at his flagship restaurant, The French Laundry. He spent over 2 years at The French Laundry, and was promoted back to Per Se as the Executive Sous Chef in February 2012. As Executive Sous Chef, Chef Peters oversees and manages the staff, runs service, and creates a new menu each day. His intense focus and attention to detail allows him to flourish in such a notable 3 Michelin star kitchen, inspiring younger cooks to do just the same.
Commis Harrison Turone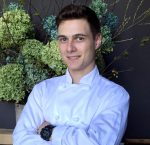 Harrison Turone began his culinary career in high school, where he was in a dual enrollment program earning college credits while still in high school. He soon realized that cooking was his passion and started staging at some of the best restaurants in his hometown. After high school, Commis Turone enrolled in culinary school while also working full time as an entremeitter at V. Mertz restaurant. He ultimately realized that it would be more beneficial for him to fully submerge himself into the kitchen. He left V.Mertz and staged at various restaurants in San Fransisco, until he eventually took a job at Ad Lib, The French Laundry's temporary pop up restaurant in Napa. He recently took a commis position at Per Se.