Team USA 2019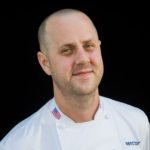 Matthew Kirkley
Head Chef, Team USA 2019
Born in Baltimore, Matthew Kirkley's relationship with seafood began on the docks of the Chesapeake Bay, where he often went crab fishing with his father. The reverence that he developed for pristine fish and shellfish while living there still impacts his culinary point of view today.
Chef Kirkley entered the Culinary Institute of America in 2001 and began his career at Striped Bass in Philadelphia. In 2003, he moved to Chicago to work at Seasons Restaurant in the Four Seasons Hotel, and then later at NoMi in the Park Hyatt Hotel. In 2006, he took a sabbatical from his work in the United States to stage in Europe at The Fat Duck and Le Gavroche in London, and at Le Meurice in Paris. Upon his return from Europe, he moved to Las Vegas to become sous chef at Restaurant Joël Robuchon. In 2008, Chef Kirkley returned to Chicago to open L20 under Chef Laurent Gras, followed by Ria in the Elysian Hotel. In 2011, he returned to L20 as Chef/Partner and earned two Michelin stars for three consecutive years. In the fall of 2015, he moved to San Francisco to take the helm of Coi, following in the footsteps of celebrated Chef Daniel Patterson. He was awarded a third Michelin star in the fall of 2017. Simultaneously, Chef Kirkley won the National Selection for Team USA to represent his country in the Bocuse d'Or 2019. He is currently training for the competition in Napa Valley.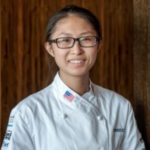 Mimi Chen
Commis, Team USA 2019
Mimi Chen became interested in the culinary arts when she participated in a C-CAP competition during high school and earned a full scholarship to the International Culinary Center (ICC). In preparation for culinary school, Commis Chen interned at Café Boulud. Upon graduating from ICC, she was offered a position at Restaurant DANIEL, where she continued to learn and grow as a cook. In 2016, Commis Chen placed first in the Ment'or Commis Competition. This win awarded her the opportunity to stage with Team USA 2017 and join them in Lyon for the Bocuse d'Or finals. She became part of the first ever American team to win Gold. Commis Chen is now working with Chef Kirkley at Coi in San Francisco, CA.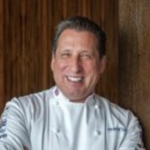 Robert Sulatycky
Head Coach, Team USA 2019
Chef Robert Sulatycky has a long history with the Bocuse d'Or. Representing Canada in 1999, he placed fourth and was awarded the "Prix Viande," or best meat prize. He has since mentored both Canadian and American chef candidates and was honored to be a member of the international jury for the 2007 and 2013 editions of the competition. Chef Sulatycky has helmed the kitchens of the Four Seasons hotels in Toronto and Chicago. He also simultaneously led the teams at the Beverly Hills Hotel and Hotel Bel Air, where he had the pleasure of cooking for Hollywood stars. Chef Sulatycky is once again working with the Four Seasons group, developing a restaurant and dining concept for the new Four Seasons Private Residences in Los Angeles, California. Chef Sulatycky's passion for wine has also taken him to Napa, California, where he is the managing director of Mithra Winery. Mithra, a small production boutique winery located on Mount Veeder, has a reputation for producing exceptional cabernet sauvignons.
Chef Sulatycky is the president and co-founder of iQKitchen Inc., a technology company that has developed simple and intuitive app-based solutions to many of the basic challenges that chefs face in the kitchen. He also served as Assistant Coach for Bocuse d'Or Team USA 2017, who won the first-ever gold medal for the United States.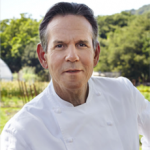 Thomas Keller
President, Team USA
Renowned for his culinary skills and impeccable standards, Chef Thomas Keller is the chef and proprietor of The French Laundry, a Yountville, California landmark that has been hailed as the finest restaurant in the world. Ten years after opening The French Laundry in 1994, he launched Per Se, bringing his distinctive fine dining style to Manhattan. Today, both restaurants enjoy three-star Michelin ratings, making Keller the first and only American-born chef to hold multiple three-star ratings from the prestigious dining guide. Chef Keller has also opened Bouchon, Bar Bouchon, Bouchon Bakery, and Ad Hoc, each of which contributes to the new paradigm he has set within the hospitality industry. More than one million copies of Chef Keller's books are in print, including the New York Times best sellers "Ad Hoc at Home," "Bouchon Bakery," "The French Laundry," "Bouchon" and "Under Pressure," a book devoted to sous vide cooking. Keller was designated a Chevalier of The French Legion of Honor in 2011, the highest decoration in France, in recognition of his lifelong commitment to the traditions of French cuisine and his role in elevating cooking in America. He is only the third American culinary figure to be so honored.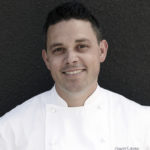 Gavin Kaysen
Vice President, Team USA
Chef Gavin Kaysen is the chef and owner of Bellecour and Spoon and Stable, two of the most lauded restaurants in Minneapolis, where Kaysen is originally from. He spent the early part of his career working in San Diego, France, and New York City. After winning the James Beard Foundation's "Rising Star Chef" award, he moved back to the Twin Cities with his wife and two sons. In 2014, Chef Kaysen opened Spoon and Stable, which quickly became not only a favorite among locals, but also a destination for anyone visiting the Upper Midwest. In 2017, he opened his second restaurant, Bellecour, a French bistro that is a nod to his friends and mentors, Chefs Daniel Boulud
And Paul Bocuse. Chef Kaysen is one of the founding mentors of the ment'or BKB Foundation, and he helped lead Team USA to a silver win in 2015 and a gold win in 2017 in the Bocuse d'or competition.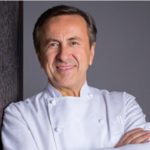 Daniel Boulud
Chairman, ment'or
Chef Daniel Boulud, a native of Lyon, France, is considered one of America's leading culinary authorities and one of the most revered French chefs in New York, his home since 1982. Daniel is the chef and owner of 13 restaurants around the world, and is best known for his eponymous, exquisitely refined DANIEL on Manhattan's Upper East Side. Outside of New York, Chef Boulud's cooking can be found in London, Singapore, Toronto, Montréal, Miami, Palm Beach, Washington DC and Boston. Boulud is the author of nine cookbooks, the recipient of multiple James Beard Foundation awards, including "Outstanding Chef" and "Outstanding Restaurateur," as well as The Culinary Institute of America's "Chef of the Year Award" (2011) and The World's 50 Best Restaurants "Lifetime Achievement Award" (2015). Boulud was named a Chevalier de la Légion d'honneur by the French government in March 2006 in recognition of his contributions to the advancement of French culture. He has been a generous supporter and co-president of Citymeals-on-Wheels for more than two decades, and is Chairman of the ment'or BKB foundation.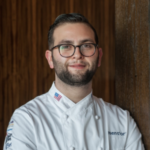 Jordan Guevara
Assistant, Team USA 2019
Chef Jordan Guevara began his career as a high school student at the Jacobson Culinary Arts Academy in Florida under the tutelage of Chef Guillame Alinat. Chef Alinat led Chef Guevara to his first job at Restaurant Hapa, perhaps the only fine dining restaurant in his hometown. While there, Jordan worked under Chef Brett Gardiner on and off for four years. Following his graduation, Jordan moved to San Francisco, where he worked at many Daniel Patterson restaurants under various chefs, including Kim Alter, Manfred Wrembel, Charlie Parker and Chris Johnson. After two years of shifting between DPG restaurants, Jordan began working at Daniel Patterson's Coi, where he remained for two and a half years. At the end of Chef Jordan's tenure there, Chef Matthew Kirkley was selected to champion the Coi Kitchen upon Daniel Patterson's departure. Just before the transition, Chef Jordan left Coi to be a part of Single Thread's opening. Later, he spent six months at Lazy Bear. Chef Jordan is currently an assistant for Bocuse d'Or Team USA 2019.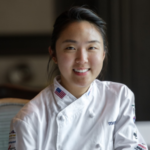 Alice Kim
Assistant, Team USA 2019
At the start of her career, Chef Alice Kim worked in several bakeries and pastries in Chicago before finding her way into fine dining at L2O. While there, she worked under Chef Matthew Kirkley as pastry sous chef before moving to California to work at Meadowood. Shortly thereafter, she reopened Coi in San Francisco under Chef Kirkley, working in both the savory and pastry sections. Collectively, Chef Kim has worked with Chef Kirkley for a total of six years.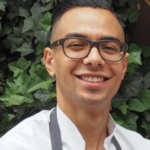 Daniel Garcia
Assistant, Team USA 2019
Sous Chef Daniel Garcia is a New York native who developed his passion for cooking at a young age. While he was a student at a culinary high school, Chef Daniel was awarded a scholarship from Johnson & Wales University in Providence, Rhode Island. He earned a Bachelor's degree in Culinary Arts and Food Service Management while also working full-time at Birch Restaurant. After graduating in 2014, Chef Daniel staged at some of New York's top restaurants before accepting a position at The NoMad Hotel in NYC, where he worked his way up the ranks to Sous Chef. In 2016, Chef Daniel participated the ment'or Young Chef Competition and took first place. His win granted him the opportunity to stage with Team USA 2017 and to join them in Lyon for the Bocuse d'Or finals. Chef Daniel recently moved to Napa, California, where he has joined the team at The French Laundry. Additionally, he will be assisting Team USA in the 2019 Bocuse d'Or.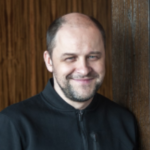 Martin Kastner
Designer, Team USA
Kastner, born in the Czech Republic, trained as a blacksmith and spent some time restoring historical metalworks at a castle in Western Bohemia before moving on to natural materials design and sculpture. He founded Crucial Detail in 1998, shortly after his arrival in the United States. He is best known for his Alinea serviceware concepts, which landed him on The Future Laboratory's "100 Most Influential Individuals in Contemporary Design" list. Kastner is also the designer behind The Porthole infuser, a beautiful infusion vessel that was originally created as one of many custom pieces for bar chefs at The Aviary in Chicago. The Porthole has been featured in dozens of publications, including on the cover of Food Arts Magazine. It is used in some of the world's most prestigious bars, hotels and restaurants, and it is sold in the Museum of Modern Art store in New York City. Kastner received the 2014 IHHA Global Innovation Award for Best Product Design, and he designed the platter and tools used by Team USA in the 2015 and 2017 Bocuse d'Or competitions that contributed to their first-ever silver (2015) and gold (2017) wins.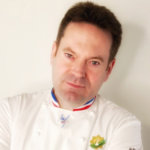 Claude Le-Tohic
Assistant Coach, Team USA 2019
Born in Northern France, Chef Claude Le-Tohic attended culinary school in Vannes, France. Two years later, he joined the kitchen of acclaimed Chef Ghislaine Arabians' Le Restaurant, an eatery in Lille, France, which boasts two Michelin stars. In 1987, Le-Tohic joined the team at Café Jamin, Chef Joël Robuchon's 3-star Michelin restaurant in Paris. Chef Le-Tohic left Café Jamin after two years and worked in many other Michelin-starred restaurants throughout the next decade. In 2004, he received the prestigious peer-juried Meilleur Ouvrier de France award, which was presented to him by French President Jacques Chirac. In 2005, at the request of Chef Robuchon, Chef Le-Tohic came to the United States to open Joël Robuchon and L'Atelier de Joël Robuchon at the MGM Grand in Las Vegas. His work earned Joël Robuchon at the MGM Grand the only 3-star Michelin rating in Las Vegas, as well as Forbes' Five-Star and AAA's Five-Diamond ratings.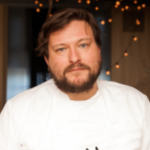 Erik Anderson
Assistant Coach, Team USA 2019
Chef Erik Anderson launched his culinary career in 2006 with a five-month internship at Chef Thomas Keller's The French Laundry before moving to Minneapolis for a position at Auriga under Doug Flicker, who became his mentor. In 2009, Chef Anderson brought his creativity to Tim McKee's Sea Change Restaurant & Bar, where he created menus focused on sustainable seafood and seasonal ingredients. While there, he received a James Beard Award Nomination. Chef Anderson then relocated to Nashville to co-helm the kitchen at The Catbird Seat, which is considered one of the country's most groundbreaking restaurants. During that time, he was named one of Food & Wine Magazine's "Best New Chefs." Later, back in Minneapolis, Chef Anderson partnered with Chef Jamie Malone to revitalize the iconic 70-year-old restaurant Grand Café. In late 2017, Chef Anderson's dream of leading a Michelin-starred kitchen came true when he accepted an offer to helm the kitchen at Daniel Patterson's Coi in San Francisco.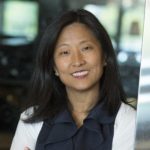 Young Yun
Executive Director, ment'or
Young Yun joined the men'tor BKB Foundation in 2013 as Executive Director after a 14-year tenure at American Express, where she focused on the dining and entertainment industries. She serves as the voice of the foundation's Board of Directors, which includes Chefs/Founders Daniel Boulud, Thomas Keller and Jérôme Bocuse, and helps to bring their vision and mission to fruition.
Young leverages her strategic, business development, customer loyalty and marketing background to develop partnerships and marketing programs which promote and elevate the organization. She ensures that Team USA has the support it needs to compete on a global stage at the Bocuse d'Or competition, and was a critical part of Team USA's 2015 Silver Medal and 2017 Gold Medal wins. Young also spearheaded the re-branding of the foundation and launched two new programs to support young chefs across America.
Young works closely with the country's most renowned chefs, including the Board of Directors and the organization's Culinary Council - a network of over forty industry leaders who contribute their expertise and knowledge - to find new and collaborative ways to grow and inspire excellence, both for those working in the profession and for those who are avid fans of the culinary world.