When legendary chef Paul Bocuse, founder of the Bocuse d'Or, reached out to long-time friend Daniel Boulud with a request — help the U.S. do better in the competition, he accepted immediately. Dubbed the "Culinary Olympics," the Bocuse d'Or is arguably the most prestigious international culinary competition. Yet despite the fact that the U.S. has some of the best chefs in the world, Team USA has never performed well in the Bocuse.
In an interview, chef Daniel Boulud explained how Paul Bocuse, who has dined from coast to coast, could "see that everywhere in America the food is fantastic and the quality of the chefs is incredible, but that the competition, even the management of the team, was not reflecting what America is about." So, he asked Chef Boulud if he would get involved, and if he could get other great American chefs involved, specifically, Thomas Keller. Boulud felt "very honored," he recounted, "I called Thomas and told him I hoped he could see it as a wonderful thing to do. Thomas accepted right away."
Keller and Boulud established the Bocuse d'Or USA Foundation, with Vice President Jérôme Bocuse, son of Paul Bocuse. What started there has grown into the "ment'or BKB Foundation" that goes beyond support for Bocuse d'or USA, and the general public can make direct donations on the website. Ment'or has established a scholarship fund and competitions for young chefs, a mentor program, and an impressive Culinary Council, which, says Boulud, "does more than just put in their name, they pay a fee that goes to our programs and they get involved."
Held every two years, the Bocuse d'Or in Lyon has been around since 1987, and as chef Boulud recalled, "Paul wanted to do an Olympics of cooking, and he had this idea way before Top Chef or Iron Chef. Paul also wanted to make sure there was always a crowd supporting their 'athletes.' It's the gladiators of cooking!" And yes, the cheering and raucously loud crowd at Bocuse d'Or certainly bring back the days of the gladiators.
This year, along with commis Skylar Stover, the chef who will be the gladiator for USA is Philip Tessier, Executive Sous Chef at The French Laundry. Of Tessier, Boulud said, "Phil is a wonderful chef. He's very dedicated and has been training intensely. There's a lot of support for him, and he has two great coaches, Gavin Kaysen and Grant Achatz."
I asked chef Grant Achatz what he thought of Tessier having trained him in Yountville. Achatz said "He is quietly intense and exudes the Thomas Keller trained confidence and discipline that it will take to hit the podium in Lyon."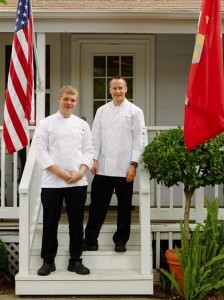 Tessier's coach Chef Gavin Kaysen told me that "Phil is an incredible craftsman, and technical cook who has passion and soul that we hope will translate in the food presented at this year's competition." Kaysen, chef/owner of Spoon and Stable Restaurant in Minneapolis, competed in the Bocuse d'Or in 2007. Though he didn't do well in the competition, he placed fourteenth and there was a somewhat dodgy incident involved, he has taken the lessons he learned and passed them on to Chef Tessier. "I shared many of my positives, as well as difficulties, with Phil. One of the most important is timing, and the noise level. After training in a quiet kitchen, thousands of people screaming and blowing horns at the competition can be shocking."
Reaching out to Chef Philip Tessier in these last weeks before the competition, I asked him how he feels going in. He replied, "We have a lot going against us, history not the least of it, yet someone once said 'success is when preparation meets opportunity.' I am confident that we have diligently prepared ourselves… We have as good a chance as any of the other countries."
Competition at this level requires a huge amount of commitment and sacrifice. Many chefs simply don't have the luxury of time to train. In fact, when I asked Daniel why he had never gone in for competitions, he pointed to the fact that he simply didn't have the time. So time is something that Thomas Keller afforded to Phil Tessier.
Tessier explained that "over the past year our training has progressively intensified as we have been able to shift our responsibilities completely to the Bocuse d'Or. We have a well-established program, yet we will be improving on each of the components until the last opportunity."
In general, it seems American foodies don't pay a huge amount of attention to the Bocuse d'Or. Even within the industry, historically people don't get hugely worked up and excited about it. This could be because we've never done well, though perhaps the reason we haven't done well is because our team lacks the huge backing that other nations give their "athletes" in Lyon.
Chef Boulud explained another part of why he thinks the US hasn't performed well in the past, explaining that the competition is sometimes far from what a chef does in his real-life kitchen. It's not like modern plated food, the competition still tends towards banquet style, which is not what you'll find hitting any world-class top table today.
"We have voiced our concerns about this competition," admitted Boulud. "They need to re-evaluate. We want to get closer and closer to what is done in a restaurant. The creativity, technique, presentation, the tastes and textures…" It's ironic really, that the Bocuse d'Or isn't quick to adapt to modern times, because by all accounts, Paul Bocuse himself is the last chef who would want to remain stuck in a stodgy past.
"Paul can relate more to the kids in the younger generation than he can to older chefs who are set in their ways and don't think progressively," proclaimed Boulud. Indeed, Bocuse came up with this competition long before cooking competitions, or even chefs, were all the rage.
Boulud said that no matter anyone's issues with the kind of cooking, or with the judging, which he said is "not always even," or whatever can be said as to why the US hasn't fared well historically, he made it clear of past performers, "The top five always do something extraordinary. We're working hard to make sure we do something extraordinary this year."
The competition, which coach Kaysen said is "not about tall toques walking around thinking they're the best," is held on January 27 and 28, at the Sirha in Lyon, France. When I asked Daniel how he feels about going this year (he has been many times), he replied, "I'm very very excited! And I hope this year we're going to do well!" I'm right there with him, literally and figuratively. This year I'll be traveling to the Bocuse d'Or myself (for the first time), and reporting back here on HuffPost. I imagine that in between snapping photos, scribbling notes, and simply standing in awe of it all, I'll be fervently shouting myself hoarse for Team USA.